Gary Dourdan's Ex Wants Restraining Order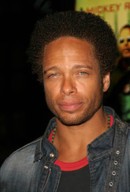 Gary Dourdan's ex-girlfriend has filed a restraining order request against the actor following his arrest on suspicion of felony battery on Sunday.

The former CSI: Crime Scene Investigation star was taken into custody by police after they were called to investigate a disturbance at a property in Venice, California.

Cops reportedly found Dourdan's former partner Nicole Vail Cannizzaro nursing a broken nose and issued her with an emergency protective order, temporarily banning the actor from contacting her.

But now Cannizzaro has filed legal papers in court for a civil order. In the documents, obtained by TMZ.com, she claims she broke up with Dourdan in May "due to his excessive drug use, which only worsened after cutting off communication with him."

She goes on to accuse Dourdan of bugging her home with recording devices and attempting to break in, and wants a judge to order her ex to stay at least 100 yards away from her and her two pet dogs.

The petition will be heard by a judge later this month.

Dourdan is currently free on $50,000 bail.