Gary Coleman, 1968-2010: His Tragic Life & Death In This Week's PEOPLE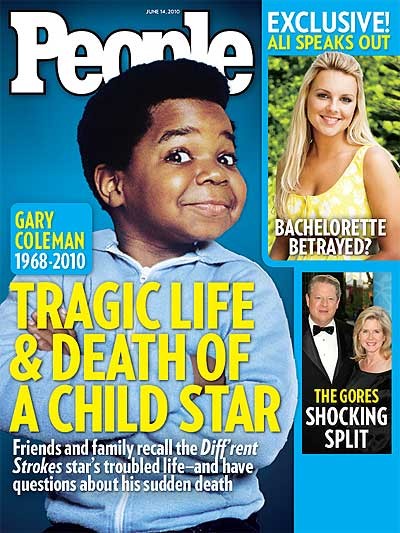 "We're Not Pointing Fingers, But We Need To Know Exactly What Happened," Coleman's Parents Tell 'PEOPLE' Exclusively

"Diffrent Strokes" child star Gary Coleman charmed a generation of fans in the 1980s. During his brief life, the actor felt chronically betrayed: by the Hollywood community he felt had turned its back on him; by the parents he once believed mishandled his fortune; by his own failing body, which chained him to dialysis for decades. After years of health woes and career disappointments, he died estranged from his family and embroiled in a troubled marriage to Shannon Price, 24. In this week's issue of PEOPLE, Coleman's parents and friends search for answers about his final days and sudden death at the age of 42 in Provo, Utah.

"We're not pointing fingers, but we need to know exactly what happened," his 67-year-old mother, Sue Coleman, tells PEOPLE. The retired nurse, who lives in Illinois with her 71-year-old husband, W.G. "Willie" Coleman, a retired forklift driver, say they tried to reach out to the Price family when they learned of their son's condition, but didn't hear back and weren't notified of the decision to take him off life support. (Price declined to speak to PEOPLE.)

"We're not angry. We're just concerned," says Sue. "Did our son fall down the stairs? In the bathtub? We need to have some closure." This much is certain: Coleman and Price, who met on the set of the 2006 indie comedy "Church Ball," and later married in a secret ceremony in 2007, had a "stormy" marriage, says Randy Kester, Coleman's Utah-based attorney.

"They both had pretty explosive personalities," Kester tells PEOPLE. "There were incidences of domestic violence on both sides. They had plenty of verbal fights, which did escalate to physical confrontations." Coleman's manager, John Alcantar, says he never witnessed any physical violence. "He loved her very much, and she cared for him. At the end, she was by his side and his last words to her were that he loved her… She's distraught." They had a nearly 18-year age difference, but "he had a childlike quality," says Alcantar, "which is funny, because he seemed like an old soul as a kid."

A bright and precocious child, "people were just drawn to him," says Sue. But his health was a constant struggle: He was diagnosed as a toddler with an atrophied kidney, and the other failed by age 5, when he had the first of two ultimately unsuccessful transplants. Although his growth was stunted by immunosuppressants, his personality blossomed, and in the mid-1970s he was discovered by producer Norman Lear. Although Coleman charmed audiences as plucky motormouth Arnold Jackson on "Diff'rent Strokes," behind the scenes his health was a constant source of stress. "He had to be on dialysis daily," recalls co-star Mary Jo Catlett, who played housekeeper Pearl. "But he never complained."

But after "Diff'rent Strokes" ended in 1986, Coleman "found himself out in the cold," says his former agent Victor Perillo. "A lot of bitterness in his life came from that." He adds that around that time Coleman began "listening to the wrong people." In 1989 Coleman sued his then business manager and parents, claiming they had misappropriated his money, and his parents later countersued. In 1993 a court awarded Coleman a nearly $1.3 million judgment – quickly devoured, he said, by lawyers' fees and poor investments. His parents have always denied any wrongdoing: "We were the last people who would hurt Gary in any way," says Sue.

Now the friends and family he left behind are mourning what might have been. "We always left a place setting at our dinner table for Gary for the last 25 years," says his father Willie. Looking back on his last visit home in 1995, his mother Sue tells PEOPLE, "We said, 'We love you,' and he said, 'I love you too.' And that was it. He was gone." (Cover Story, page 66)

**Also In This Week's 'PEOPLE'**

-Exclusive: LeAnn Rimes Speaks For The First Time About Her Shocking Split
-Exclusive: The Bachelorette's Ali Fedotowsky Speaks Out – "The Drama Definitely Came!"
-Al & Tipper Gore's Shocking Split: "These Two Will Remain The Best Of Friends…"
-Polizzi: "I'm Just A Normal Person, Not A Model"
-Bret Michaels' Concert Comeback: "I Felt Like I Had Stepped Into My Own Living Room"