Gary Busey Needs His Own Reality Show

For those of you that saw this year's Oscars, certainly you were riveted. No, I'm not talking about the Academy Awards show's salute to periscopes. I'm speaking, of course, about E!'s 9-hour red carpet coverage featuring
Ryan Seacrest
. Ryan's main job was to stand behind a shrub and ask the star couples such probing questions as "When are you two getting married?" like he was their grandmother.
His interview with
Jennifer Garner
was running smoothly until someone let the Buse loose. I am speaking, of course, about Mr.
Gary Busey
. Gary burst onto the screen, yelling at Seacrest and stunning Garner by getting to first base with her on live television. By now, I'll assume you have seen the now infamous clip, but if you haven't, I urge you to do yourself a favor and check it out. You won't be disappointed.
Now, I'll be honest. I'm not that familiar with Mr. Busey's body of work. I read up on The Buse (as I like to call him), and I learned a lot. For example, I had no idea he was once nominated for an Oscar for the
Buddy Holly Story
. Way to go, Buse! And did you know he once played Donovan Riggs on a very special episode of "
Walker, Texas Ranger
"? Chances are you are like me, and your knowledge of Mr. Busey comes from watching his work as Chet 'Rocketman' Steadman in the 1993 sleeper hit, "
Rookie of the Year
." Or perhaps you caught his star-making turn on VH1's
Celebrity Fit Club
? Even if your experience with The Buse only extends to the incident with Ryan on the red carpet, or Busey's completely rational explanation the next day where he stated that Seacrest "is innocent champion of honesty," one thing's for certain: Someone needs to get Gary Busey his own television show.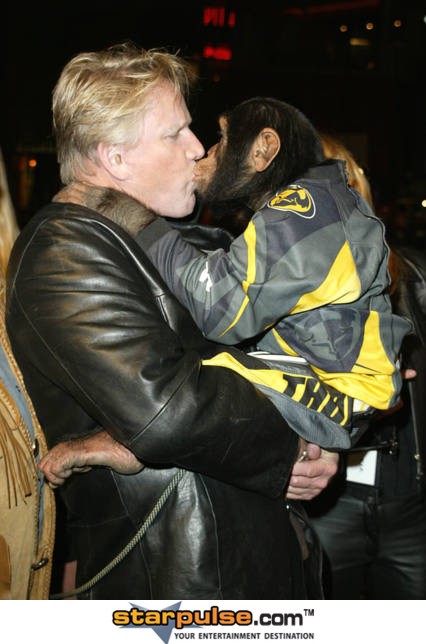 This is what I have worked up so far (and I am hereby retaining royalty rights to this goldmine when it gets greenlit). We call it, "The Buse is Loose!" It's part game show, part talk show, with The Buse, of course, as our gracious host. What he has to do is this: He needs to go on camera and say words. That's it! The game element will come into play when his guests (which could be anyone from your average citizen to a celebrity starlet) try to paraphrase what Busey says in a way that makes total sense. Points could be awarded based on several key categories such as "accuracy," "logic," or "degree of offensiveness." We don't even need a set; The Buse can be set loose anywhere and his charm will still remain. There will be no prizes. The prize is simply the story you will be able to tell after having a conversation with Gary Busey.
I'm still working on the details, but what I know for certain is this:
Kim Kardashian
has her own show, and I have no idea who she is. From what I can tell, she has met E!'s only pre-requisite for having a reality show, which is, "Being a person who exists." Even
Ian Ziering
has his own show called "Your Momma Can't Dance!" Are you telling me that you'd rather watch someone else's mother do the Foxtrot instead of The Buse philosophizing with a pigeon? I didn't think so. By the way, I've got money on that pigeon conversation happening by episode three.
The fact that Gary Busey does not have his own television show is a disgrace. The man played FBI Agent Angelo Pappas in "
Point Break
." Show some respect! This injustice will not stand! America, it's time we let The Buse loose! Who's with me?
Story by Christina Sussman
Starpulse contributing writer