Garbage Releasing Comeback Album On Their Own Label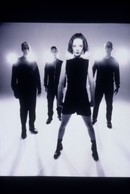 Rockers Garbage have launched their own record label to release their next album after growing wary of "greedy corporate interest."
 
The Stupid Girl hit-makers, fronted by Shirley Manson, are preparing to release the long-awaited follow-up to 2005's Bleed Like Me, and they're determined to market the record on their own terms.

In a post, entitled 'This is beyond exciting for us. Hope you feel the same way too' on their Facebook.com page, the rockers reveal, "Today we announced the launch of our record label, STUNVOLUME. We will self-release our upcoming studio album later this spring. We have had our fill of greedy corporate interest."
"We don't like how they do business. This time we are going to do it our way. Our aim is to put out music that is pure of heart."

"We have been in the studio putting the finishing touches on our fifth studio album, our first in seven years. Our intention is to make a great record that we have written, recorded and produced as a band."