'Game Of Thrones' Set To End After Seven Or Eight Seasons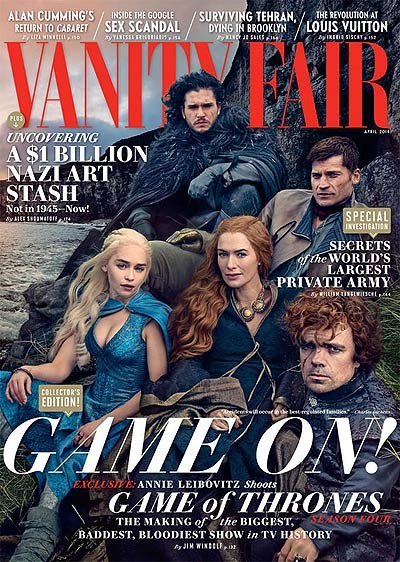 The fourth season of HBO's hit series Game of Thrones is less than a month away, and Vanity Fair magazine's April issue features an in-depth look at the show through the eyes of its creators D.B. Weiss and David Benioff, along with some of its cast and author George R.R. Martin, whose "A Song of Ice and Fire" book series is the basis for the show.

"It doesn't just keep on going because it can," Weiss says of the show, revealing that he and Benioff would like to wrap things up after seven or eight seasons.

"I think the desire to milk more out of it is what would eventually kill it, if we gave in to that."

Martin has currently published five books in his planned seven-part saga, and the show is quickly catching up to the books.

"They are [catching up]," Martin tells Vanity Fair. "Yes. It's alarming."

"This is a serious concern," Martin adds. ""Maisie (Williams, who plays Arya Stark on the show) was the same age as Arya when it started, but now Maisie is a young woman and Arya is still 11. Time is passing very slowly in the books and very fast in real life."

So what happens if the show does catch up to the books?

Benioff revealed that last year he and Weiss went to Santa Fe, New Mexico, with Martin to discuss that possibility, and the author revealed to them where the series was headed and what will happen with each character.

"If you know the ending, then you can lay the groundwork for it. And so we want to know how everything ends. We want to be able to set things up. So we just sat down with him and literally went through every character," Benioff explained.

"I can give them the broad strokes of what I intend to write, but the details aren't there yet," Martin says. "I'm hopeful that I can not let them catch up with me."

Martin is currently working on the sixth book of the series, "The Winds of Winter," but it isn't expected until next year. Back in January, his publisher, Jane Johnson, said, "Certainly not this year," when asked when the book would be done on Twitter.

The Annie Leibovitz-shot cover features stars Emilia Clarke (Daenerys Targaryen), Lena Headey (Cersi Lannister), Peter Dinklage (Tyrion Lannister), Nikolaj Coster-Waldau (Jaime Lannister) and Kit Harrington (Jon Snow).