'Game Of Thrones' Season Four Trailer: The Red Viper Is Coming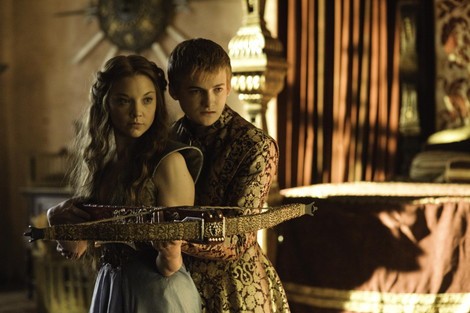 The first full-length trailer for season four of Game of Thrones has finally arrived, revealing new characters, battles, betrayals, struggles and... that there's still three months we have to wait for the April 6 premiere.

Producers packed a ton of stuff into the 1:45 trailer, which debuted Sunday night on HBO and picks up where the events of last season left off.

An aerial view of King's Landing dominates the opening shot of the preview as a dragon's shadow flies over the city. The city is very clean and peaceful looking, leading us to believe this is part of a dream sequence.

Cut to King Joffrey (Jack Gleeson), who exclaims to his uncle (father) Jamie (Nikolaj Coster-Waldau) that the people of the city love him because he 'saved the city and won the war.'

Next, dead bodies strewn about a battlefield are picked on by crows, perhaps symbolizing the fourth book in George R.R. Martin's fourth novel in the Song of Ice and Fire series, "A Feast For Crows."

Across the narrow sea, Daenerys (Emilia Clarke) and her people are met by an unknown rider as the scene cuts back to Jamie telling his nephew (son), "The war's not won."

And that's just the first 18 seconds.

Following Jamie's counsel to Joffrey, Ser Jorah Mormont (Iain Glen) counsels Dany, telling her that there's "good and evil on both sides, in every war ever fought."

The two voiceovers set the stage for what's to come, including Tyrion (Peter Dinklage) getting thrown in the dungeon (those of us who read the books know why!); the wildlings, who Jon Snow (Kit Harington) deserted at the end of season three to rejoin his brothers of the Night's Watch, attacking Castle Black; and Jamie getting a golden prosthetic.
It even looks as if another wedding is set to take place, something fans of the show who haven't read the books may be a bit skeptical about given the results of the last wedding that took place.

One of the highlights and highly anticipated moments arrives when we get our first glimps of Oberyn Martell (Pedro Pascal), aka 'The Red Viper' of Dorne, arrives at King's Landing to settle a grudge with the Lannisters.
"Game of Thrones" season four kicks off Sunday, April 6 at 9pm on HBO.

Check out the full trailer below...