Gail O'Grady is a 'Wife of Wall Street' on Tonight's 'Castle'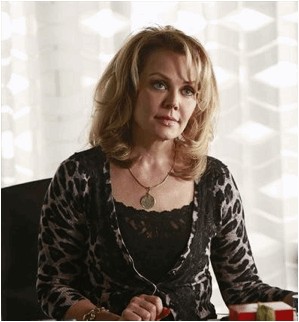 "It was a pretty easy yes," actress Gail O'Grady said of her guest-starring role in tonight's episode of Castle. "I actually did it without even seeing a script. The producers called and kind of pitched the show to me, because they were still writing it, and I thought it sounded like a great time."
The TV veteran, who most recently played Wanda Perkins on The CW's cheerleading comedy-drama Hellcats, appears on Castle as a reality TV star named Margo Cowan - one of the members of a Real Housewives-esque show called "Wives of Wall Street." When one of the other ladies is murdered, Beckett and Castle are called in to investigate the crime.
"It's a really fun, different show for Castle because it is a show within a show," explained O'Grady, who said that she didn't base Margo on any reality TV personality in particular. "I've seen some of the Housewives shows and I know they're wildly popular but I've not been pulled into them," she added. "The character was pretty much on the page."
"I loved the people that I worked with," she continued. "I'm a fan of the show, so it was nice meeting [stars Nathan Fillion and Stana Katic] and getting a chance to work with them. And the director, Larry Shaw, I did my first movie of the week with him and Desperate Housewives with him."
O'Grady also had kind words for her fellow guest actresses, Suits star Gina Torres and Heather Ann Davis. "They said that they were going to try to put together an interesting  group of actresses for this and I had not worked with either one of them before," she said. "We enjoyed getting together. It was hard for us to keep quiet because we were chatting and having a good time!"
The actress is a familiar face to TV audiences from her many small-screen roles, including Donna Abondando on NYPD Blue, Helen Pryor in the 1960's set drama American Dreams, and Judge Gloria Weldon in seven episodes of Boston Legal. What show would she like to visit next? "I am a huge Downtown Abbey fan but I don't think that call will be coming anytime soon," she joked, adding that she also loves Showtime's Dexter and House of Lies.
"I'm happiest when I'm working," she continued. "I've never cared about the medium. I've never cared about being the most famous actor on the planet. I am a working actor and that's all I ever cared about - going to work every day, and working with people I enjoy, and doing good work. I don't think I've ever really been typecast. I've been very fortunate."
"Reality Star Struck" airs tonight at 10 PM ET/PT on ABC.
For more from Brittany Frederick, visit my official website and follow me on Twitter (@tvbrittanyf).
(c)2013 Brittany Frederick. Appears at Starpulse with permission. All rights reserved. No reproduction permitted.