Gabrielle Wortman And Jason Rosen Become 'Smoke Season'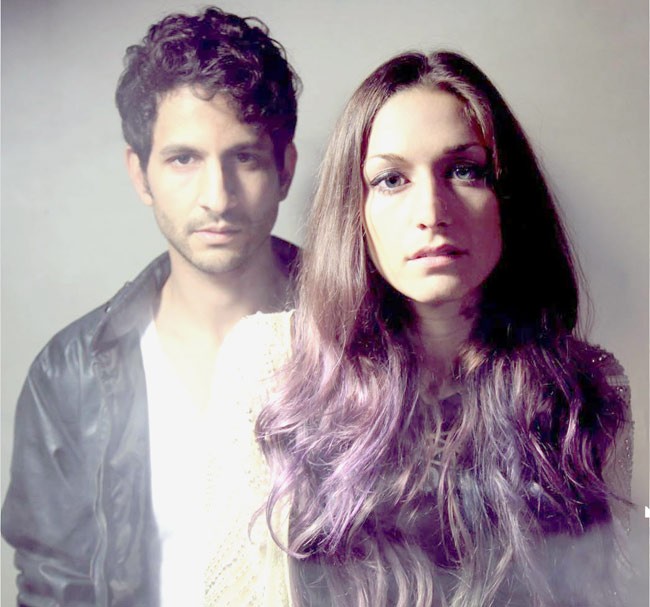 "It was just too special not to really pursue," said Gabrielle Wortman of what led her to form the duo Smoke Season with Jason Rosen. The pair are celebrating the release of their first EP, Signals, and an upcoming online performance on StageIt this Sunday, April 28. Both artists had their own individual careers - Wortman with her electronic alter-ego TEMP3ST and Rosen formerly a member of the band Honor Society - but came together in late November as a team.
Jason called the new project "sort of a happy accident. I ended up moving on from Honor Society and I sort of went right into Smoke Season. It was a logical next step. We started recording right away, and we decided we wanted to record an EP. We sort of went full speed ahead with the project."
"He really did go right in full steam ahead!" agreed Gabrielle. "The thing that we really started doing with Smoke Season is [doing] everything ourselves. We're abiding by a very stringent DIY policy. We produced and wrote our entire EP by ourselves. We mixed it. We directed and edited and released our music video by ourselves. We do all of our websites and artwork and stuff."
It's a goal of every musical artist to establish themselves as different from all the others, but Gabrielle and Jason are taking that to the next level, looking not only to separate themselves musically but to create an entire brand. "We want to do things atypical," said Jason, while Gabrielle elaborated, "We want to sell a style. We're going to make fashion and style. The live show needs to be an experience. The traditional doesn't really seem like it's enough."
So what makes their music so different? Asked to describe their sound, she continued, "The cool thing about Smoke Season is it allows me to show my versatility, because it's faster and romantic. Listening to it is very dream-pop and folky. If you listen to Smoke Season stuff, it's kind of this psychedelic blend of folk rock and it also blends undertones of electronic music."
"The name Smoke Season comes from, both of us have had love-hate relationships with Hollywood, and one of the things we both detest is there's so much smoke and mirrors and so much talk in LA," added Jason. "Every time I get off stage, someone's like 'I know this producer.' Everybody has somebody that they know and everyone's talking about these things that don't really materialize. The music is our reprieve from that."
They have a very clear idea of what they want to do with their new project. Now it's up to the both of them to bring their combined abilities to their individual audiences, and hopefully even beyond that. To that end, Gabrielle and Jason are hitting the road. "A tour is really what we're looking for and what we're going to piece together," she explained. "We really want the live experience to be different. We know that our music sounds different, we know our music video looks different, so bringing that to people is a really big goal for the rest of the year."
"It takes bands years to find their voice," Gabrielle continued. "Because we're so focused on doing things a little bit differently, I think that if we really establish our voice in a year, I'm going to feel like this is a truly successful and beautiful project."
Signals is now available on iTunes. You can also visit the Smoke Season official website, like them on Facebook, and follow them on Twitter (@smokeseasonband). Look below for their first music video.
(c)2013 Brittany Frederick. Appears at Starpulse with permission. All rights reserved. No reproduction permitted. Visit my official website and follow me on Twitter at @tvbrittanyf.