FX Exec Defends Charlie Sheen, Says New Show Can Redeem Him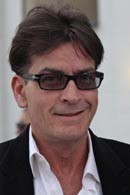 Every year CBS presented to the Television Critics Association, their executive Nina Tassler would stick up for Charlie Sheen. Whatever trouble he was in, he was still a professional at work, until the end. Now it's FX's turn. President and general manager John Landgraf answered questions for the TCA about the upcoming Sheen series Anger Management.
"For me, I think that if Charlie wants to get his house in order, that encompasses his issues with substance abuse and relationships to his own family," Landgraf said. "It also encompasses his desire to have greater consciousness about his public persona. He wants to do a show in which he as an actor has more complicatedly positive relationships with women."
Some critics are concerned that Sheen should not be given another forum. Particularly with his documented cases of abuse towards women, they are concerned about a show where he's romancing the ladies. Landgraf sees the show as an opportunity for Sheen to turn the corner on that issue.
"The character is raising an adolescent daughter, a 13-year-old girl. So he as a father is struggling to foster for a daughter positive self esteem and what it is to be a woman in society and how to transect the difficulties of adolescence and grow. My opinion is that could be a really good thing, not only for Charlie but it could be a good thing for society."
Basically, FX is giving Sheen a second chance. Or a third, or a fourth. Who's counting? "I believe in redemption so from my standpoint, if the project that came in took no notice or had no reference to and no consciousness of what came before it, and Charlie had none, that would have been the perpetuation of something. That's not what Charlie and Bruce Helford want to do and I'm all for giving them the opportunity to turn things around."
Anger Management goes into production this year.