'Futurama' Season 7 Premiere Advance Review: Is Bender The Father?
Next Wednesday, Futurama returns with a fantastic season premiere - and Bender hears a phrase now made famous by Maury Povich. Here's an early look ahead. SPOILER ALERT!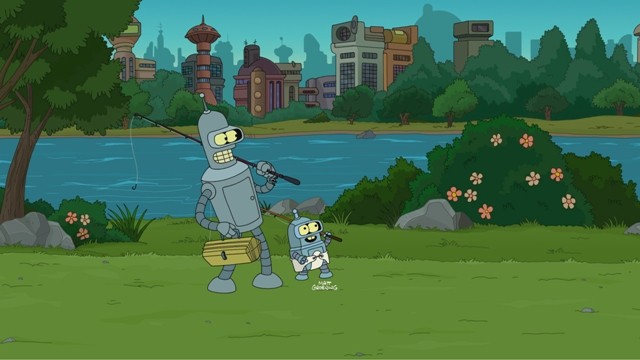 In "The Bots and the Bees," everyone's favorite robot (voiced by John DiMaggio) hooks up with the new Planet Express drink machine, Bev (guest voice of Wanda Sykes) - and the result is a baby Bender!
Understandably, Bender doesn't take well to fatherhood, but once Bev departs, he has no choice but to raise little Ben himself. This means that he teaches the young robot to steal, loot and rob a bank. It's Bender at his classless best, and thus good for plenty of laughs. I'm also personally a fan of the show's title card gag, a Futurama Fry meme that reads "Not sure if new episode or just rerun of episode I watched drunk."
This may be one of Futurama's best episodes, because it's another episode that is as moving as it is funny. The show has the ability to be both hilarious and genuinely affecting, such as in the tear-jerking story of Seymour, Fry's dog, in "Jurassic Bark". Likewise, your eyes won't be dry at the end of "The Bots and the Bees." If you don't get choked up by what happens to Ben, you should check yourself for a pulse.
That in itself is a credit to the enduring greatness of Futurama, which may have even surpassed its predecessor The Simpsons in quality. Futurama fans know that Bender is going to teach his kid all sorts of things that are wrong and immoral. We also know that Ben isn't going to stick around, because the show isn't going to add a baby robot to the main (or at least recurring) cast. Yet even though we know the general plot of the episode, it's still pretty darn funny and even more heartwrenching.
It's a wonderful return for one of television's best animated series; of all those currently on the air, FX's Archer is the only one I'd rank higher. Seven seasons in, Futurama is still funny, still well-written (not a cutaway gag in sight), and with episodes like this, pretty touching too.
Futurama returns for its seventh season on Wednesday, June 20 at 10 PM ET/PT on Comedy Central.
To learn more about Futurama, visit the show's official website. For more from Brittany Frederick, visit my Starpulse writer page and follow me on Twitter (@tvbrittanyf).
(c)2012 Brittany Frederick/Digital Airwaves. Appears at Starpulse with permission. All rights reserved. No reproduction permitted.