'Funny People' Comes To DVD & Blu-ray Nov. 24

Critically-acclaimed writer, director and producer
Judd Apatow
takes audiences on a hilarious and revealing look at the world of stand-up comedy with the story of George Simmons, a famous comedian who is given a second chance at life in "
Funny People
", coming to two-disc Blu-ray Hi-Def, two-disc Collector's Edition DVD, single-disc DVD and digital download on November 24, 2009 from Universal Studios Home Entertainment. All versions deliver even more heartfelt laughs with both the original theatrical movie and a never-before-seen unrated film. The two-disc Blu-ray and DVD versions are also packed with bonus features created especially for home entertainment audiences by Judd Apatow and his entire production team, including actual footage of
Adam Sandler
's and Apatow's personal prank phone calls, additional stand-up comedy performances by the cast, and in-depth video diaries chronicling the filmmaking process. With two versions of the movie, and an incredible array of hilarious bonus features crafted just for fans, "Funny People" on DVD and Blu-ray promises to be the ultimate comedy experience and a must-have gift this holiday season.
In "Funny People", Adam Sandler leads an all-star ensemble cast including
Seth Rogen
,
Leslie Mann
,
Jonah Hill
,
Eric Bana
and
Jason Schwartzman
, along with special cameo appearances from some of comedy's greatest legends including
Paul Reiser
,
Ray Romano
,
Sarah Silverman
,
Norm MacDonald
,
Dave Attell
and Charles Fleisher, among others.
"Funny People" on Blu-ray is presented with perfect picture and the purest digital sound available, as well as Universal's acclaimed BD-Live Center, which allows fans access to a world of interactive and exclusive content via their Internet-connected player.
Film critics from coast to coast have given Judd Apatow's "Funny People" great reviews for its smart, touching and comedic take on the life of George Simmons. "Apatow's richest movie yet," said David Denby of
The New Yorker
; "hilarious" raves Peter Travers of
Rolling Stone
; and "uproariously funny!" according to Sonny Bunch of The Washington
Times
.
Enter here for your chance to win one of five copies of "Funny People" on DVD!
Throughout the production of the film, Judd Apatow and his entire production team were mindful of home entertainment audiences, gathering exclusive footage of the filmmaking process and creating special features that they knew fans would love.
Accordingly, both the two-disc Collector's Edition Blu-ray and DVD come loaded with exclusive bonus features, including:
-Hilarious gag reels
-Deleted & Extended / Alternate Scenes
-Line-O-Rama: Re-watch some of the movie's funniest scenes, but this time with alternate punch lines
-Feature Commentary with director Judd Apatow and stars Adam Sandler and Seth Rogen
-Documentaries:
"Funny People" Diaries: A documentary in four parts which takes audiences inside all aspects of the filmmaking process from early cast table reads and joke brainstorming sessions, to the various filmmaking techniques employed throughout the production.
Judd's High School Radio Show
Raaaaaaaandy!: This mockumentary takes fans on the road with Aziz Ansari's Randy character from the film.
-Music from "Funny People": Listen to music from and inspired by the film from James Taylor, Adam Sandler, Jon Brion and RZA
-From the Archives: Watch Adam Sandler and Judd Apatow on a 1990 episode of The Midnight Hour with Bill Maher; Sandler's first appearance on David Letterman; and Seth Rogen doing stand up at 13!
-The Films of George Simmons: Watch footage from George Simmons' greatest films including Sayonara Davey and Merman
-Prank Call 1990: Watch Sandler as he performs an actual prank phone call, in this archival footage from Judd Apatow's personal video library
-"Yo Teach…!": Go "behind-the-scenes" of "Yo Teach…!", the television show featured in the film "Funny People"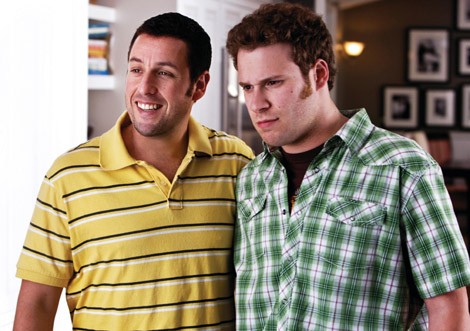 Image © Universal Movies Home Entertainment
"Funny People" on Blu-ray Hi-Def includes everything on the two-disc Collector's Edition DVD, plus more exclusive content and interactive features, including:
-Enjoy more hilarious laughs with two more Line-O-Rama's
-Watch additional Deleted, Extended and Alternate Scenes
-Additional music and an extensive look at James Taylor on the set
-Over an hour of stand up performances by the film's cast
-Additional archival material including Sandler's second Letterman appearance, Sandler at Los Angeles' famed Comedy & Magic Club and Judd Apatow performing on The Dennis Miller Show
-Hilarious prank calls from Adam Sandler and Judd Apatow
-Adam Sandler and Judd Apatow's appearance on "Charlie Rose"
-U-Control: "Funny People" music: Universal's exclusive signature feature puts the viewer just a click away from additional insights into the music in the film without ever leaving the movie.
-BD-Live: Access the BD-Live Center through any Internet-connected player to download more exclusive content, the latest trailers and more!
My Chat: Using any Internet-connected player, host a text chat with friends while watching the movie in synchronization
My "Funny People" Commentary: Create play-by-play video, audio or text movie commentary and share it with friends through UniversalHiDef.com and the BD-Live Center
My Scenes Sharing: Bookmark favorite scenes from the movie to share with BD-Live buddies!
The "Funny People" single disc DVD includes a gag reel and feature commentary with director Judd Apatow, Adam Sandler and Seth Rogen.
Enter here for your chance to win one of five copies of "Funny People" on DVD!
Universal Studios Home Entertainment Is Offering Up A $100,000 Chance Of A Lifetime To Celebrate The Blu-ray Hi-Def & DVD Release Of "Funny People" This Holiday!
Beginning October 28th, you could live like a movie star by winning $100,000!* With this much cash, create the experience of a lifetime by taking a first-class comedy tour in Los Angeles. While there, you could take advantage of VIP access to top comedy clubs or even buy and cruise Hollywood Boulevard in a brand new luxury ride, like the ones seen in "Funny People"! Over 200 additional prizes will be awarded, including HDTVs, Netbooks, Blu-ray players and more. Each winner of these additional prizes get 2 – one for themselves and one to give away this holiday. (*
$100,000 prize will be awarded in the form of a check to the winner
.)
Adam Sandler, Seth Rogen and Leslie Mann star in this seriously funny film from writer-director Judd Apatow. When famous comedian George Simmons (Sandler) is given a second chance at a new beginning, he and his assistant, a struggling comedian, Ira (Rogen), return to the places and people that matter most… including the stand-up spots that gave him his start and the girl that got away (Mann). Co-starring Jonah Hill, Eric Bana and Jason Schwartzman, it's the film critics cheer is "uproariously funny"(Sonny Bunch, The Washington
Times
).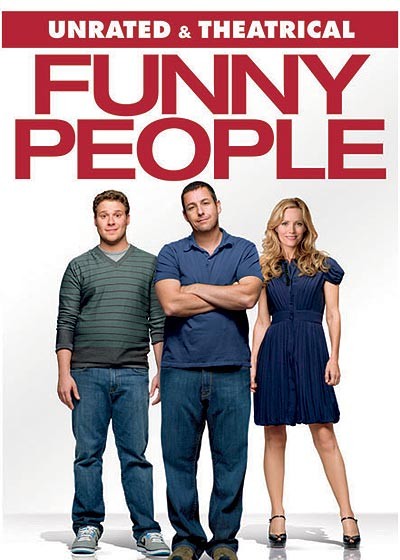 Image © Universal Movies Home Entertainment
Universal Studios Home Entertainment is a unit of Universal Pictures, a division of Universal Studios (www.universalstudios.com). Universal Studios is a part of NBC Universal, one of the world's leading media and entertainment companies in the development, production, and marketing of entertainment, news, and information to a global audience. Formed in May 2004 through the combining of NBC and Vivendi Universal Entertainment, NBC Universal owns and operates a valuable portfolio of news and entertainment networks, a premier motion picture company, significant television production operations, a leading television stations group, and world-renowned theme parks. NBC Universal is 80% owned by General Electric and 20% owned by Vivendi.
"Funny People" Official Site