Frosty the Snowman Makes Another Film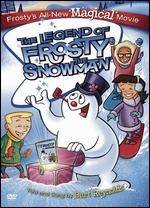 Classic Media invites kids and families to chill out with Frosty -- one of the most popular holiday characters of all time -- and the release of his first full-length DVD feature,
The Legend of Frosty the Snowman
. This all-new animated comedy adventure is based on the original
1969 TV classic
and is sure to become a new family favorite. Legendary leading man and Hollywood icon
Burt Reynolds
narrates the movie and sings the popular title song. In addition, Tom Kenny, the voice of
SpongeBob SquarePants
also stars.
Holiday favorite Frosty the Snowman is back in a brand new movie that promises thrills, spills, and (what else?) chills. The Legend of Frosty the Snowman is set in Evergreen, a perfect little town where fun is against the rules. When Frosty blows into chilly Evergreen, he's shocked to learn that the kids don't know how to ice skate, pack a snowball, or even use a sled. Frosty teaches the kids to have fun in their winter wonderland, and in the process sets off a kid revolution.
Related Links:
Frosty the Snowman
Frosty Returns