From Unsigned To Crue Fest: A Q&A With John Allen Of Charm City Devils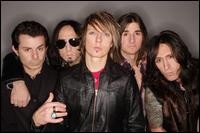 Charm City Devils
are a bit of a success story if you look at it. Two years ago, the band wasn't even together, as a matter of fact, the 'band' was just former
SR-71
drummer John Allen and no one else. All it took was some serious local play in order to catch the attention of record label Eleven Seven and famed label president
Nikki Sixx
. Next thing you know, Allen is on the first Crue Fest and one year later, his bands' debut 'Let's Rock and Roll' it out and that same band is playing on Crue Fest 2.
See kids, you really can go from the outhouse to the penthouse in just two short years. That is, if you have the drive, talent and veracity like Allen and CCD.
Before hitting the pavement with the kings of 80's metal, band proprietor and frontman John Allen sat down with me and answer some questions about everything from their new record to what fans can expect from Charm City Devils out on the road as well as on wax.
Starpulse:
How did Charm City Devils get added to Crue Fest in the first place?
John Allen:
Nikki Sixx is president of our record label, first off. Last year when we were finalizing our deal, I went out on the first Crue Fest for a couple of dates to hang out with him, then went on with Sixx AM's bus and got to see how the whole thing worked. We were talking about our record, which was mostly done anyway before the deal, and when he was talking about that he said maybe next year we would be on it. Well, he we are a year later and the man is true to his word.
SP:
What can fans expect from you live on this tour?
Allen:
I think they can expect really high energy, balls out in your face rock show. Most of the time when I write it's always built around energy and the thought of the live aspect. We usually pump it up live.
SP:
How was recording 'White Trash Circus' with
Motley Crue
and everyone else?
Allen:
That was a trip, for real. It was surreal. That song was already done for the record and what happened was, the Monday I got the call congratulating us for Crue Fest, like 10am on a Monday when my management called, they also told me that I was going to be recording vocals with Motley Crue for 'White Trash Circus' and that they needed the vocals by that night. And they also told me three days later that I needed to fly to Los Angeles and then the next day I was going to be in the video for the song. So it was pretty much a whirlwind week for me. Luckily for me I had the studio in the basement so I just went downstairs and got the file they sent over, and cut the vocals for it. It was a very comfortable setting for me. I sent the file back to the producer James Michael and he just popped them in there.
SP:
Tell me about the recording process of 'Let's Rock and Roll.'
Allen:
The record was recorded over the span of more than a year. The song that really started it all was 'Burn Baby Burn,' which was a real rough demo I recorded, actually before I had much gear. Most people don't understand that when you got into a recording studio you had around 20 microphones, like at least one or two per drum. When I recoded that song I only used four microphones on my drum kit. Everything was done very garage-y, very raw, and basic. It had such a great vibe that I didn't go back and try to clean it up and polish it. As I added more gear to my studio and learned better recording techniques, things had evolved over the year. On the record you run the gamut from really raw and garage sounds to stuff that sounds much more polished. At that point I had just started singing as well, so I was hiding behind a distortion box and such. I was trying to clean up my vocals as much as possible but there's only so much you can do. It was an ongoing type of thing and as my technique got better, I was worried I was going to lose my raw type of edge, but I still think there is enough grit there.
SP:
Tell me what you think fans can expect from this record.
Allen:
If you're a fan of raw, hard rock, everything from
The White Stripes
to
Aerosmith
, from
Robert Johnson
to
AC/DC
, anything in that spectrum, I think you'll get where I'm coming from with these songs, the band and what we're about.
SP:
With mainstream rock bands spending more time on heightened production levels, why was it important for you to keep that garage rock sound in your music?
Allen:
For one thing I wanted to reproduce it live. I didn't want to have to rely on either backing musicians or elaborate off stage stuff. I wanted to go up there every night and just jam. I wanted it to be us and raw. If it's not maybe as slick as other things then so be it. On the other hand, lately I tend to really love bands with more of a raw aesthetic or sound, like the Hives or the Vines and the Black Keys. Im digging that kind of stripped down music. The music has to stand on its own.
SP:
You had mentioned earlier that the record took over a year to record. Did your songwriting influences change at all during that period or did you pretty much have the songs set and ready to record?
Allen:
It's hard to kind of pinpoint how long the record took, because when I started the band, I started recording. I wasn't playing live and was just recording. 'Burn Baby Burn' turned into three songs and then those three songs turned into six into nine, and I had a record sitting there all of a sudden then I started getting out live. I released that locally and I wound up actually releasing 'Lets Rock and Roll' as my first single, really a demo. That was slated to be my second record but a local radio station picked up on it and started spinning it. That's when the deal started coming together with Eleven Seven. They were into the few songs they heard of mine and wanted me to come up for a meeting. I took that record with me which they didn't know existed. They thought it was going to take a long time to write and record, then I said I have six new demos and this record of ten songs. I think that really surprised them that I had that much material. This record was pulled from that initial recording and I was writing the whole time the lawyers were working on the contract for the record. So, it's kind of hard to sum up when the recording process started and stopped.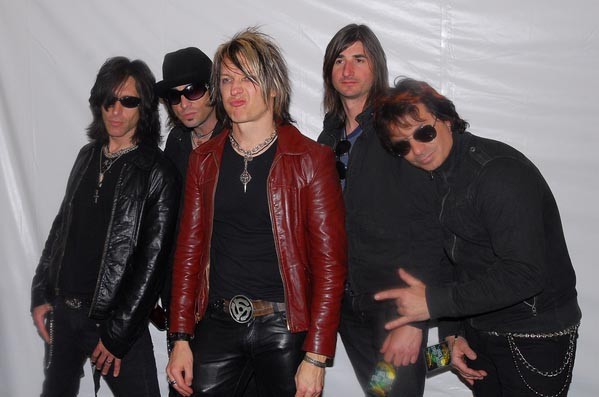 Image © Daniel Locke / PR Photos
SP:
Where can we catch CCD following Crue Fest for the rest of 2009?
Allen:
Our agent is working on a fall tour, but we don't have anything set in stone right now. We will see what happens and keep our fingers crossed. The label is really into recording this record for two years some should be out on the road for a while rocking out this record.
For more information, check out
www.charmcitydevils
.
Story by
Brian Campbell
Starpulse contributing writer