From Loretta to Laughter: Kaitlyn Dever on 'Last Man Standing'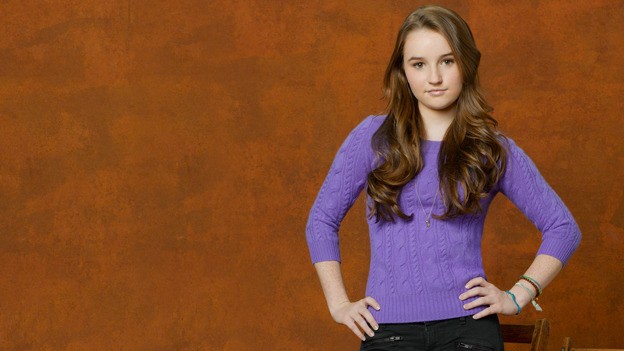 Kaitlyn Dever wowed audiences when she played the headstrong Loretta McCready on FX's Justified, holding her own with Timothy Olyphant's Raylan Givens. Now she's doing something completely different: making us laugh as Eve Baxter, the youngest daughter of the Baxter family, on ABC's sitcom Last Man Standing. Kaitlyn recently chatted with BFTV about making the change from drama to comedy and what she's learned from her current gig.
"I had done comedy before in several TV roles and in the film Bad Teacher, so the switch to comedy wasn't new," she said of joining the Tim Allen-led show. "The challenge was that this was [my] first time working on a live audience multi-camera show.  It's very fast-paced compared to film, and performing in front of an audience is almost like doing theatre.  It's exciting!"
What attracted her to the series in the first place? "Having the chance to work with a comedy veteran like Tim Allen was enough for me," she explained, "but also the fact that this type of show was something I hadn't done before.  I was really looking forward to the challenge.
"I would have to say that I have to concentrate more when I'm doing comedy," she added. "There are so many details that make up any character, but developing a character for a dramatic role seems to come more naturally."
Now that she's actually got the role, "It is a lot different than what I thought it might be!" Kaitlyn said. "I learn new things everyday! Because of the fact that it's shot in front of a live audience, I've learned to be more versatile and 'on my toes'.  Sometimes, when a joke doesn't work in front of the audience, the writers come in with new lines and I have to be able to deliver them on the next take as if I've prepared them for weeks.
"Also, working with the other actors on the show and seeing the different methods that everyone uses when working on a scene has really taught me a lot as well."
"My character has definitely gone through some hilarious, unexpected changes this season," she continued. "I love all of the jokes the writers come up with. They are great at writing amazing material that works perfectly with Eve's dry sense of humor."
As for particular highlights, "I really liked our holiday episode this season. It turned out great! I think it's one of those great family sitcom episodes that are relatable to a lot of people," she said. "Also, we shot a fun 'western' episode where I get back to my Justified roots firing a gun. That should be airing in a few weeks."
While she's enjoying playing Eve, Kaitlyn still looks back on Loretta fondly, and recommends her Justified stint to anyone who wants to see more of her. "It's an unbelievably cool show with an amazing cast," she said. But TV's not all she's up to: "I also have some movies coming out soon - The Spectacular Now with Shailene Woodley and Miles Teller, and Short Term 12 with Brie Larson.  They should check those out too! The Spectacular Now is premiering at Sundance Film Festival this year so I'm really excited."
You should also keep your ears open for her: Kaitlyn is a musician as well as an actress. "I play guitar and sing when I'm not busy with school and acting," she said. "I've been writing some music and have recorded a couple cover songs with my sister that we're going to release soon."
Multi-talented, charismatic, and now bringing the laughter: one would imagine that Raylan would be proud with how Loretta's turned out.
Last Man Standing is new tonight at 8 PM ET/PT on ABC. You can also keep up with Kaitlyn on Twitter (@KaitlynDever).
For more from Brittany Frederick, visit my official website and follow me on Twitter (@tvbrittanyf).
(c)2013 Brittany Frederick. Appears at Starpulse with permission. All rights reserved. No reproduction permitted.