From Hannah To Harlot: Is Miley Cyrus Headed In The Wrong Direction?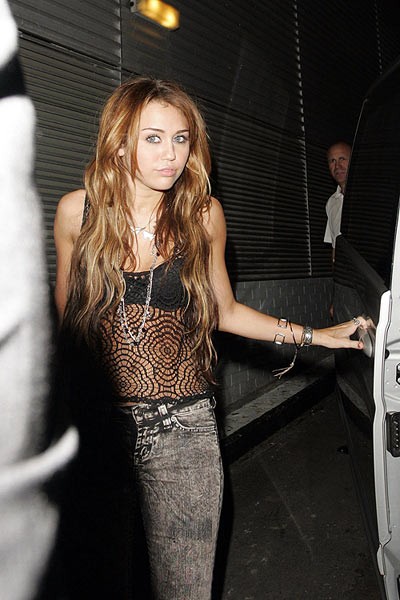 Wearing a see-through mesh top to expose her black bra, Miley Cyrus' latest outfit looks like she's continuing down the rebellious path. The 17-year old pop star is seen here heading back to her hotel in London after an appearance at a Topshop (women's clothing store) in the city.

Seems like Miley's been trying to shed her good-girl Disney image since last August's Teen Choice Awards, where she did a pole dance as part of her performance. She showed up for the awards in a super short mini skirt and tank top; and in a small bit of irony (or perhaps, foreshadowing) presented the Ultimate Choice Award to Britney Spears.

"I'm a huge fan of hers," she said of the pop queen.

Earlier this month she also came forth with comments to the BBC in which she said she'd have no problem doing a nude scene if the right role came along.

"If it's something that's classy - it just depends on the circumstances," she said.

Miley also appeared on "Dancing With The Stars" and performed her new single, "Can't Be Tamed," wearing a skimpy outfit and grinding with her dancers. It was the same outfit she wore in her video.

Hmmm, shortly after her performance Walmart pulled her jewelry line, citing high levels of a toxic metal. But could that just be an excuse because of her recent PG-13 performances?

Next came a lap dance for a 44-year old producer (creepy); and the announcement that she wouldn't be putting her career on hold to attend college because "my grandma went back to college at 62 years old."

Last Saturday night she shocked fans in Portugal by wearing a very skin-tight green leotard during a performance an dnearly suffered a wardrobe malfunction. And later in the week she went even further down the Britney path by simulating a kiss with one of her dancers during a performance on "Britain's Got Talent."

Miley also wants to continue her film career, stating that she wants to star in a prequel to "Sex and the City," playing a younger version of Sarah Jessica Parker's role as the libidinous Carrie Bradshaw.

So it seems that the former "Hannah Montana" star, only 17-years-old, wants everyone to know she's grown up now. Or at least trying to grow up. But is she doing it the wrong way?

Lap dance. Pole dance. Nude scene. Lesbian Kiss. So what's next Miley?

What do you think? Post a comment below, we want to hear from you!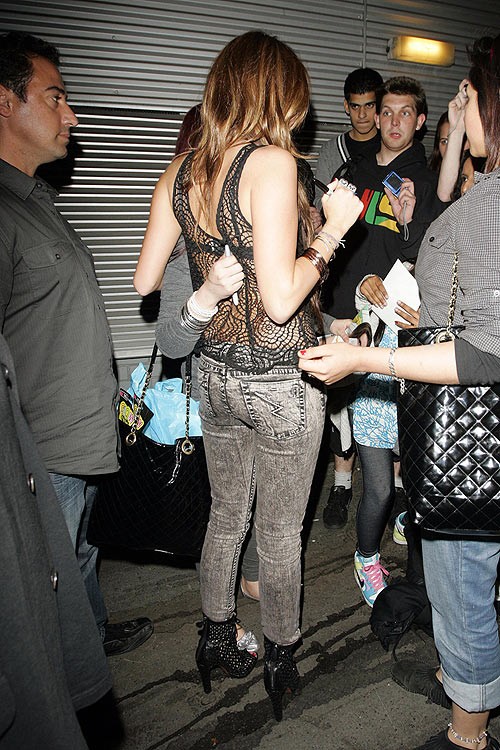 ^ click for next image ^
Click the pics for larger images:
- Click here for more Miley Cyrus pictures! -