Friends Remember JFK Jr. & Carolyn Bessette 15 Years After Their Tragic Deaths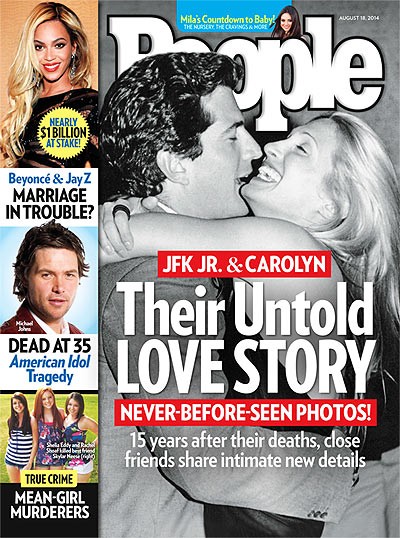 Fifteen years after John F. Kennedy Jr.'s plane fell from the sky, friends share rare pictures and moving new details in this week's issue of PEOPLE about his life with wife Carolyn Bessette – from their inside jokes and unabashedly passionate office kisses to the dreams never realized.
"John and Carolyn were magic together," says his friend Gustavo Paredes.
"He was instantly attracted to her," recalls his friend and longtime assistant RoseMarie Terenzio.
"The world saw them as a prince and princess," says Matt Berman, the creative director of George and author of a new memoir, JFK Jr., 'George & Me.' "But they were the most real and engaging people I've ever known."
"Someone once asked me if John were alive, what would he think of Obama being elected President, and I responded if John were alive, Barack Obama would not be the president," says Terenzio. "John would have gone into politics by now. He was approached to run for the Senate before Hillary Clinton joined the race."
She adds, "He was hesitant to go into politics until George was a success. He felt he needed more than just running on his name. Carolyn knew it was an eventuality."

*Also in this week's People:*
Scoop: Mila Kunis & Ashton Kutcher Get Ready For Baby
Scoop: Selena Gomez Fires Her Parents As Managers
Scoop: Michael Strahan & Nicole Murphy "Never Saw Each Other"
Emmy Insider: Seth Meyers, Kerry Washington & Betty White On TV's Biggest Night
Beyonce & Jay Z: Headed For A Split? Nearly $1 Billion At Stake


All this and more are in the latest issue of People magazine, on newsstands everywhere now!