Freida Pinto Sizzles In The April Issue Of Esquire UK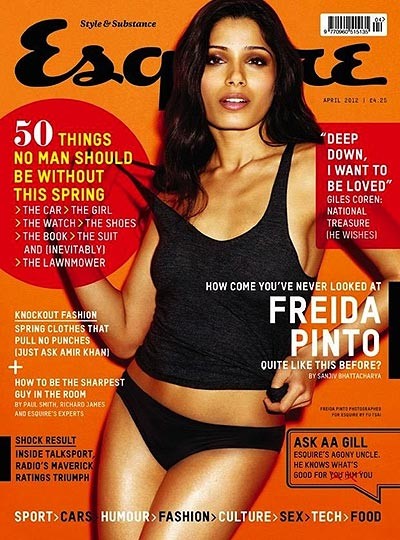 Immortals star Freida Pinto is the subject of a new photoshoot for the April issue of the UK edition of Esquire magazine.

Pinto - who recently revealed that the bare backside seen in the film during a steamy sex scene isn't hers - stars in Trishna, an adaptation of Thomas Hardy's "Tess of the d'Urbervilles" opening this week in the U.K.

"It wasn't really my butt. It was a butt double," she tells Eonline. "I'm relieved I don't have to deal with that issue."

But as it turns out, she did have to "deal with that issue" as she's set to appear nude in Trishna.

"It was hard but it was a small crew, and they were good at not making their presence felt," she tells Esquire UK. "They didn't go, 'Quick! She's nearly naked! Get your camera out!'"

But despite a nude scene in her new film and a sexy photoshoot for Esquire, Freida says she's willing to do the scenes and pose for sexy pictures, but she would never do a gratuitous sex scene on film.

The actress is currently in a relationship with Slumdog Millionaire co-star Dev Patel and the two live in Los Angeles.

She says that things have changed a bit since Slumdog and the she's a little less starstruck when she sees other actors and actresses now.

"[I]n 2009, I was new to all of it (Press Tours & Premieres)," she says. "It was the Alice in Wonderland effect. Angelina Jolie would walk past and I was, like, 'Seriously?'"

Trishna, directed by Michael Winterbottom, opens on Friday in the UK. Watch the trailer below and click on for more sexy pictures of Freida!