Free After 10 Years: The Amazing Details Of The Cleveland Kidnapping Escape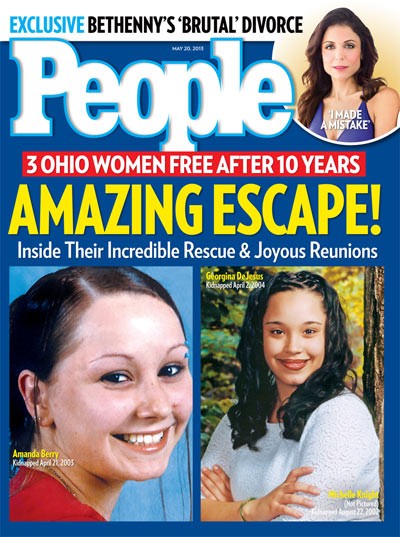 After more than 10 years in captivity, missing women Amanda Berry, Gina DeJesus, and Michelle Knight make a dramatic escape to freedom. This week's issue of PEOPLE goes inside their incredible rescue and joyous reunions as details emerge about the secret world of their alleged Cleveland kidnapper.

Joining his family for rice and beans and an afternoon of yard work at his mother's working-class Cleveland home on Monday, Ariel Castro was in high spirits. "The first thing he said was, 'familia!'" his brother-in-law Juan Alicea tells PEOPLE. Before he left, "He kissed his mom goodbye and said, 'I love you, Mom; the food was good.' Just like normal." But as much of the country would soon learn, it was no ordinary day.

Within hours, Castro, 52, and his brothers Pedro, 54, and Onil, 50, were arrested after three missing women – Amanda Berry, 27, who disappeared 10 years ago; Gina DeJesus, just 14 when she vanished in 2004; and Michelle Knight, who was 21 at the time of her 2002 disappearance – escaped from Castro's Cleveland home. "Our family is just as devastated as anyone else," Alicea tells PEOPLE. "They are shocked."

Of the dramatic escape, neighbor Angie Garcia tells PEOPLE, "The screen door had glass at the bottom with wood. [Amanda] had half her body out. The little girl kept saying, 'Mommy! Mommy!'" The three women "were so scared," adds Garcia. "They were very dirty. Real bad-looking. They hadn't showered. Their teeth were yellow." Though neighbors noticed boarded windows and disrepair at the home, "we never imagined this," says Alexis Lipscomb, who lives down the block.

While Castro, an avid bass guitar player and motorcyclist, maintained a relatively low profile, there may have been hints at a hidden side. "I grew up knowing him and he was always nice and friendly," says Feliceonna Lopez, 16. "He would give us motorcycle rides. Out of nowhere he started acting crazy, and my mom told me to stay away from his house. He started boarding up his house about four years ago. He stopped talking to everyone when he used to come to all the parties – he just got weird."

In the meantime, friends and relatives continue to question how the nightmare could have lasted so long, so very close to home. Just before she was spirited away by authorities, "Amanda said they could hear us – we were always out barbecuing, and she said they could hear us when we were cooking and could smell the food, but they couldn't do anything about it," says Garcia. "All of Cleveland is happy. For 10 years we've had parades with signs saying, 'We love you! We wish you were alive!' Just knowing they're alive… we thank God for that."

More on the Cleveland kidnapping case, including details about the women's harrowing escape, is featured in the 5/20/13 issue of PEOPLE, on newsstands (and tablets) everywhere now.


*Also In This Week's 'People'*
Exclusive! Bethenny Breaks Her Silence: "My Marriage Made Me Feel Like I Was A Bad Person"
Ireland Basinger Baldwin: "My Mom Told Me… Always Keep Positive"
Paris Jackson Is Bonding With Her Mom: She "Needed A Mother Figure"
Mika Brzezinski On Her Food Addiction: "It Was Out Of Control"