Freddie Highmore and Carlton Cuse Talk Season 2 And The Future Of 'Bates Motel'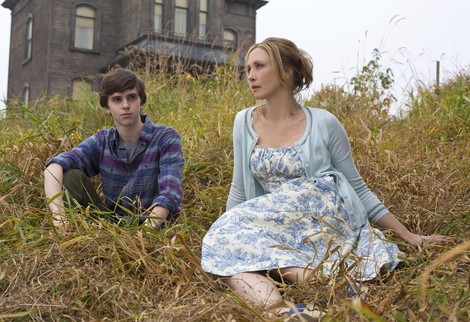 The season 2 finale of "Bates Motel" airs tonight and there is a lot it store for the fans. Hoping to set the stage for the next season, along with the last episode, many questions are being answered. The finale will continue with Norma attempting to rescue Norman from his kidnappers. She even goes as far as to force Dylan to help. While trying to please his mother, Dylan must figure out his mess, being involved in a drug war, and is said to bring some closure to the drug war tonight. Emma also deals with some issues, after feeling neglected by the Bates in the last episode. Tonight, she will make a decision as to her future at Bates Motel. As for Norman, will he be set free from his kidnappers? As indicated by the AETV website, he will be haunted by a tragic event from his past.
As questions are being answered, and with a green light lit for season 3, Carlton Cuse says that tonight's "Bates Motel" episode is "the best episode of the series so far." In a conference call to promote "Bates Motel," he and Freddie Highmore took some time to discuss Norma and Norman's relationship, as well as what is in store for the finale and season 3.  
How do you think Norman and this season finale compares to the first season finale?
Freddie Highmore: I think the whole Arc of the second season has been fantastic for Norman and there's always a sort of time that you need in establishing a character and seeing them as they are before they start off on this journey.
Towards the end of this season…we start to see this small manipulative side to Norman that starts to question our allegiance to him and sort of support and backing of it, which has been great fun as an actor to play because you play against the sense of what people think Norman should be like. But then there comes a point where I think, you know, to what extent can you continue to support his actions. And with Norman's kind of growing realization of who he is and who he might become and what he's capable of comes this sense of power for him. What I think is great about the tenth episode is to what extent would that power Norman take as a selfish decision.
Carlton Cuse: I personally think that this season finale is better because I think it moves the overall narrative a big step forward and I don't want to spoil that too much. But I think that it's pretty evident as we've moved downstream here that there's - there are these really significant looming questions. One is what is Norman's ultimate culpability in the murder of Ms. Watson and secondly how aware is Norman of what it is that he's done or is capable of doing.
To us, those are really important questions because the character's self knowledge is a huge factor in how he moves forward. We're going to jump right into the heart of those questions in the finale.
Freddie, what is your opinion on Norma and Norman, and how do you tap into that strange, yet unique, connection between the two characters?
Freddie Highmore: You kind of completely disengage from the relationship that you know you have with Vera. I mean certainly being comfortable with any sort of more intimate or more sort of borderline moment thoughts and never feel awkward. You both sort of commit to whatever it is on the page. Exploring that relationship has been wonderful and certainly one of the best things about the show.
Will Norman and Norma kind of reconnect before the end of this season or will we have to see them get back together, on that same level, in the next season?
Freddie Highmore: I'm not sure.  I think one of the great things about the show is that it's never overly conclusive. You'll never sort of shove the conclusion down your throat saying, "oh this is how you must think about - this is your take on Norma and Norman's relationship." And so I imagine and I hope that various people will see the end differently and come out of it with a different opinion from the person sitting next to them. And I think that's what - that's what makes the show great, you know. So they're overly conclusive it's suggested and sort of sparks debating in that way
Carlton Cuse: Norma and Norman's relationship is at the very heart of the show and I don't think ever will change. That's what makes the show wonderful is this incredible dynamic that exists between these two characters as portrayed by these two actors…The nature of that relationship however will evolve over time and Norman will go from being sort of a boy to being a man. That's part of his journey over the course of the show. As he becomes more of a man, that has [cumulative] consequences in terms of how he and his mother relate to each other. Kerry Ehrin (co-writer) and I certainly don't see that relationship as being static but we definitely see it as always being very close and very intense.
We do foresee that there are some bad things that loom ahead for Norma and Norman but I think  it would actually rob the audience, of the enjoyment, of the journey, to be too specific about how we're going to play that out.
Do you, Carlton, have a sense of what the shape of Season 3 will be or what would you expect, given how much has been covered already in Season 2?
Carlton Cuse: Our goal is to continue to write the show on a high level and make Season 3, hopefully, even better than Season 2. Our expectations are that high and Kerry and I have actually spent a fair amount of time talking about it. We do have a preliminary game plan that we're very excited about. I mean, it's tough to say too much about it because a lot of it is driven by events that are in the finale. I feel very confident that we can make a really engaging Season 3. We do have a plan and now that we've been picked up, we're hard at work in terms of laying out the architecture of the new season. I think it's going to be great, I'm really excited about it.