Fred Durst Planning Major Personnel Changes For Limp Bizkit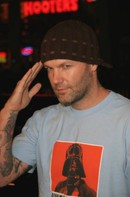 Fred Durst is gearing up to kick two original Limp Bizkit bandmates out of the group, according to his Latvian sidekick DJ Lethal.

The DJ, real name Leo Dimant, reveals Durst is set to make a major personnel change after signing to Lil Wayne's rap label Cash Money - and he's about to be axed, alongside drummer John Otto.

DJ Lethal tells TMZ.com, "We've worked together the last four years to bring Limp Bizkit back to where it is today... and to be thrown out on the street after the band gets a new deal and a new chance at life isn't cool.

"You can't push away the people who helped you get there. The fans should know that if 2/5 of the original band are not playing at the concerts, it won't be truthful to them."