Frank Zappa Sidekick Jim Sherwood Dead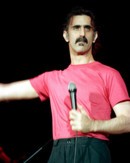 Frank Zappa's Mothers Of Invention madcap sidekick Jim 'Motorhead' Sherwood has died, aged 69.

The classically-trained multi-instrumentalist and vocalist passed away on Christmas Day, according to RollingStone.com.

Sherwood was a longtime friend of Zappa's, who appeared on the zany rocker's albums "Freak Out!," "Cruising with Ruben & the Jets" and "Lumpy Gravy." He also starred in Zappa's 1971 film "200 Motels."