France's First Lady Carla Bruni Is Pregnant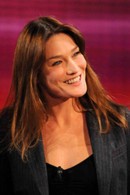 French President Nicolas Sarkozy's father has confirmed reports singer Carla Bruni is pregnant.

Pal Sarkozy has told German newspaper Bild that his son and daughter-in-law are expecting their first child together, following widespread speculation about Bruni's growing baby bump.

He is quoted as saying, "Neither wants to know the gender beforehand, but I'm certain it will be a girl, and beautiful like Carla. I'm glad to be having a grandchild..."

The supermodel-turned-singer, who is said to be due in October, pulled out of appearing at the premiere of her movie Midnight in Paris at the Cannes Film Festival in France last week, citing "personal and professional" reasons.

She and Sarkozy married in 2008. Bruni has a son from a previous relationship, while he has three sons from two earlier marriages.