Fox's Sci-Fi Fridays: The Look Of 'Terminator' And 'Dollhouse'

Fox tried something very interesting this season - a lineup that seems like the kiss of death for two unusual shows. The Friday night time spot is usually reserved for shows that have no chance of seeing renewal. However, Friday nights have been taken over by a two-hour block of sci-fi with
Terminator: The Sarah Connor Chronicles
and
Dollhouse
.
T: SCC is in its second season and still has a loyal fanbase eagerly awaiting further character and plot development (I'm talking to you, Jameron shippers), and while "Dollhouse" is still in its infancy,
Joss Whedon
fans are intrigued to discover the origins of the actives and rogue doll Alpha. Complex characters and mysterious storylines help to keep viewers hooked (and staying in on Fridays).
One of the most interesting elements of these shows is the unique costume designs. How does a designer create the look of a pre-apocalyptic rebel soldier on the run? Or how do they adorn characters that change frequently between leather-clad, street fighting wear to comfortable, innocent, hospital patient uniforms?
T: SCC has designer Amanda Friedland (
House of 1000 Corpses
) on board, while "Dollhouse" employs Whedon alum Shawna Trpcic (
Firefly
,
Angel
, Dr. Horrible's Sing-Along Blog). Friedland shows an affinity for leather, biker boots, jeans, studded belts, and unkempt clothes in general. The look of T: SCC is that of a disheveled, dirty subculture who spends most of its time cleaning guns…not behind a mirror.
"Dollhouse" shows the actives while resting at the Dollhouse in matching leisure wear, designed for them to exercise and receive treatments, much like a casual recovery center. They also tend to wear a lot of leather, buckled jackets, and boots while out on assignment.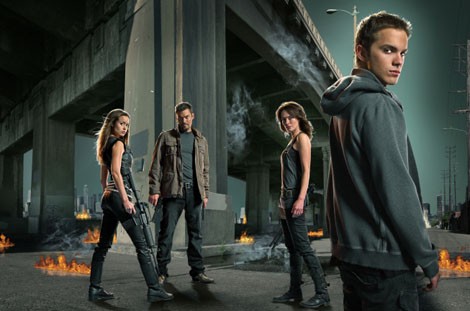 The Sarah Connor Chronicles © Fox Broadcasting
Click the pics for Sarah Connor Chronicles's gallery:
T: SCC and "Dollhouse" differ in their presentation, however. The former is all about deconstructing pieces and making them look haggard, worn-in, and practical. The latter polishes things up considerably and focuses on being pretty, seductive, and expensive. The characters of T: SCC are constantly on the run with little money and no time for personal possessions. They literally live with what's on their backs. The actives of the Dollhouse, however, are paid hefty sums by rich, important men to be fantasy-inducing creatures; no expense is spared in their wardrobes and styling.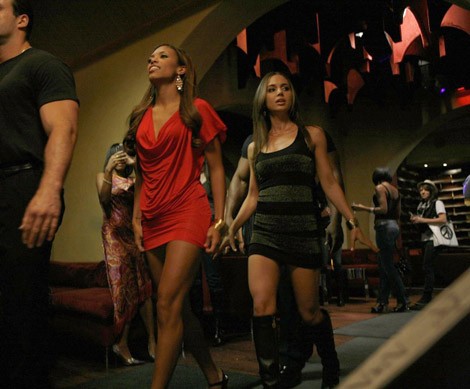 Dollhouse © Fox Broadcasting
Click the pics for Dollhouse's gallery:
Both Friedland and Trpcic manage to communicate a sort of heightened or alternate reality on their shows. The worlds of T: SCC and "Dollhouse" seem familiar to us but are somehow changed. Their fashions too seem like a more fantastic version of what we could see ourselves wearing in everyday life. Fashion runways have been dominated in the past year by faux-leather bombers, pyramid stud belts, latex leggings, skinny jeans, buckled and slouched boots, and a myriad of other "dominatrix- biker-babe" looks. With such butt-kicking characters on Fox's lineup, it's no wonder the fashion industry has picked up on its rough but chic design choices.
Story by
Ashley Demma
Starpulse contributing writer