Fox's 'Glee' Has Only Aired 1 Episode, But Fans Are Fervent

Cory Monteith
(
Glee
's football player turned singer Finn Hudson) could not stop sweating as he walked the small, very tightly packed press line inside the Hot Topic store located at Hollywood & Highland for the LA stop of the GLEEK Mall Tour. He also could not stop apologizing for it. The tall cutie-patootie (to borrow a phrase from
Rosie O'Donnell
) wiped his forehead with his bare hands as publicists scrambled to find cold bottles of water for their cast.
Outside, the eager fans braved the heat, though, winding around the outdoor mall like an army in their matching blue "I'm A Gleek" shirts, eager to meet their favorite castmember and get his or her autograph. "Glee" has only aired one episode-- and back in May-- but its fans are already solidified. As
Chris Colfer
(theater enthusiast Kurt Hummel) pointed out: "There is nothing on quite like this show right now, and we give all of the theater kids out there an outlet."
It was quite remarkable to see just how musical the "Glee" fans themselves were.
Lea Michele
(brainiac over-enthusiast Rachel Berry) spoke fondly of her favorite tour memory: when the fans in Boston sang "Don't Stop Believin" to the cast as they came through the doors. However, LA was not to be outdone, and as she stepped on stage, the crowd promptly broke out in "Happy Birthday" (she was born the following day, August 29).
Though everyone was hoping the cast would sing one of their favorite numbers (which all agreed was "Push It," except for Monteith, who held onto "Don't Stop Believin"), the cast turned it back to the fans, who were once again, all too eager to prove they knew all the words...and moves.
Kevin McHale
(Artie Abrams) and Manny "On The Streets" from KIIS FM, who was "moderating" the Q&A, tried to egg Monteith on to show off the "Single Ladies" dance, but sadly he would not bite.
Who did bite, though, was
Amber Riley
(Diva Mercedes Jones), who admitted to being the biggest prankster in the cast, even going so far as to put a "love note" in a very special guest star's dressing room and sign it from Michele. And the entire cast bit later on when Manny asked them to give out their Twitter IDs. Michele even announced that she was "400 behind Cory," meaning she had four hundred fewer followers than he did, which spurred the entire cast to jokingly complain about their own numbers. Only Mark Salling (mohawked-bad boy "Puck") could not join in because "Mark has a fake Twitter!"
Jenna Ushkowitz
(Tina Cohen-Chang) exclaimed. "He has one, but it's not really him [behind it]." "I am, like, 10,000 behind Cory!"
Dianna Agron
, the peppy Mean Girl cheerleader Quinn Fabray, spoke dryly into the microphone. The guess is they'll all be caught up soon enough, though, and Mark is going to have to hop on that bandwagon sooner rather than later or risk being asked why he hasn't yet at every future similar public appearance!
"Glee" airs on Fox beginning Sept. 9 at 9 p.m.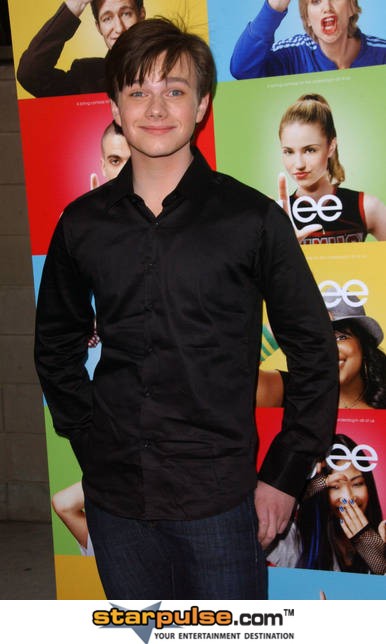 Image © Albert L. Ortega / PR Photos
Story by
Danielle Turchiano
Starpulse contributing writer