Four New Posters And A New Trailer Give Clues To Fall Thriller 'Gone Girl'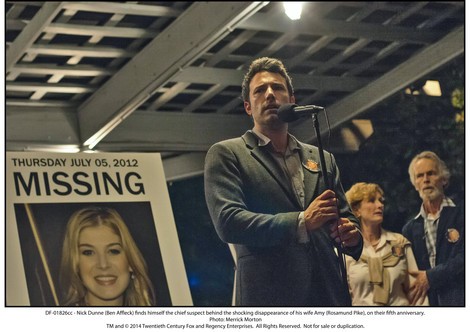 Four new posters for forthcoming thriller Gone Girl, starring Ben Affleck and Rosamund Pike have been released, and each offers a clue to the film's big mystery.

The movie, based on the best-selling novel by Gillian Flynn, centers on the mysterious disappearance of Amy Dunne (Pike) on her fifth wedding anniversary, and all signs point to her husband Nick (Affleck) being involved.

A new trailer for the film was also released with the new posters, each of which centers on a piece of evidence in the police case.

The clues include a wedding photo, a scalpel, a red thong, and a page from Amy's diary, dated July 5, 2012 and reading "This man may kill me."

Directed by David Fincher ("The Girl With The Dragon Tattoo," "The Social Network"), "Gone Girl" hits theaters October 3.

Check out the four new posters below the trailer...