Four Men Arrested Over Tim McGraw Concert Beating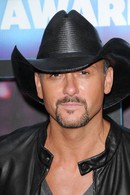 Four men have been arrested in connection with a brutal beating at a Tim McGraw concert on Sunday, which left a teenager fighting for his life.

Michael Skehill was savagely beaten during the concert at the Comcast Center in Massachusetts after a brawl broke out over a woman. The 19 year old remains in a serious condition, but cops say he is expected to recover.

Four men - 20-year-old Perry DiMascio, Brenden McCulloch, 22, and 21-year-olds Michael Adams and Kevin Anderson - have been arrested over the alleged incident and are set to be arraigned.

DiMascio is being held by cops without bail, while the other three suspects are held on $5,000 bail, reports the Associated Press.