Former Weezer Bassist Mikey Welsh Predicted His Own Demise On Twitter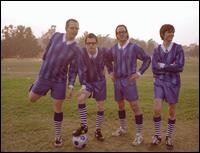 Former Weezer bassist Mikey Welsh predicted he would die in Chicago, Illinois just weeks before he passed away in a hotel room in the city on Saturday.

The 40 year old was discovered unresponsive at the Raffaello Hotel over the weekend. Officials have yet to release his cause of death as they await the results of toxicology tests.

However, in an eerie twist, Welsh wrote a post on his Twitter.com account two weeks before tragedy claiming he had dreamt he would die in his sleep in Chicago after suffering a heart attack.

He wrote, "Dreamt I died in Chicago next weekend (heart attack in my sleep). Need to write my will today."

He then added, "Correction - the weekend after next."

Meanwhile, his former band mates have paid tribute to the bassist-turned-artist, with the rockers writing on their own Twitter.com page, "We are shocked and deeply saddened to hear the awful news, our friend and fellow Weezer rocker (Mikey Welsh) has passed away. We love you Mikey."

Welsh quit the band in 2001 after suffering a breakdown.