Former Trick Pony Singer Heidi Newfield Bows At #2 With Solo Debut

Curb recording artist
Heidi Newfield
makes her solo debut at #2 on Billboard's Top Country Albums chart this week with her August 8th release,
What Am I Waiting For
. It is the top-debuting country album of the week. Produced by Tony Brown and featuring the top 20 hit single "Johnny and June," the album also entered the Billboard Top 200 chart in the top 10.
From the road in upstate New York, Newfield states, "I am so thrilled with the reaction from everyone regarding my new album! The record was such a labor of love and I couldn't be more proud with the result. This is just the beginning of good music to come."
Critics continue to applaud the album, widely considered to be a declaration of independence from the former
Trick Pony
frontwoman. What Am I Waiting For was named Critic's Choice in both People and the
New York Times
.
People
calls it one of the year's best country albums, speculating that the lead single "Johnny and June" does its namesakes proud; "it surely has them smiling somewhere." The New York Times compliments the strength of Newfield's songwriting on tunes such as "What Am I Waiting For," "All I Wanna Do," and "Love Her and Lose Me," calling it "The most impressive song…mostly a series of questions aimed at a lover walking out the door. But better than the interrogation is the tone, which is placid and certain."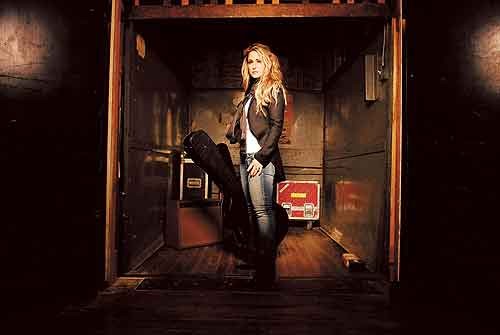 Billboard raves, "The studio marriage of Heidi Newfield and producer Tony Brown is a match made in heaven," adding, "Once thought of simply as a chick singer for the party-hearty trio, Newfield shows on her solo debut that she's way more."
Country Weekly
calls the album "a startlingly sensitive, fully rounded album that reveals heretofore unheard dimensions in both her personality and her talent…
What Am I Waiting For
is the sound of a woman walking away from the bars and exploring the world outside."
According to the
Tennessean
, "What Am I Waiting For captures the essence of traditional country females such as
Tammy Wynette
, making for a refreshing oasis in a landscape of polished, pristine pop-country music. Unlike the images churned out on Music Row, life isn't always airbrushed and pretty, and Newfield's music is about accepting life, and her past, without resignation, but with responsibility and hope."
Newfield continues to work the fair circuit in support of her new album, and will wrap up her summer on the road with
Brooks & Dunn
this Friday at the Illinois State Fair. Heidi will also record an acoustic set for CMT's "330 Sessions" later this month, and her video for "Johnny and June" is currently at #13 and rising on CMT's Top 20 Countdown. Heidi will be featured in upcoming issues of
Country Weekly, Country Standard Time,
and
American Country
, and is also set to make appearances on "Inside Music Row," News Channel 5's "Talk Of The Town" and "Tennessee Mornings" on Fox 17.
-
Win Heidi Newfield's "What Am I Waiting For"