Former Tonic Singer Emerson Hart Transforms Memories Into Enduring Gems On Solo Debut

Singer/songwriter
Emerson Hart
digs deep into past, often painful, emotions and memories for inspiration on his introspective solo debut,
Cigarettes And Gasoline
, his first for Manhattan Records.
The 12-track CD, which Hart began conceiving in 2005 after moving to Nashville, showcases his penchant for writing thoughtful, memorable songs about life, love and loss, wrapped in some of the most irresistible pop-rock melodies you'll hear this year. Hart also enlisted the production talents of Bob Rock (
Metallica
,
Bon Jovi
), Jason Lehning (
Guster
,
Steve Forbert
) and Mike Napolitano (
Squirrel Nut Zippers
,
Joseph Arthur
) for the recording sessions in Nashville and New Orleans.
Standout tracks include the propulsive opening track "Run To," the reflective, exhilarating "I Wish the Best For You," the rousing first single "If You're Gonna Leave," the harmonious, guitar-driven "Ordinary," the transporting "Flyin'," and the title track, "Cigarettes and Gasoline," which is drawn from childhood memories, and touches on the difficult topic of Hart's father's still-unresolved murder when he was a boy growing up in New Jersey. "I obsessively write every day," comments Hart. "Writing is my therapy, that's how I exist."
Manhattan Records general manager Ian Ralfini comments, "Millions of people are already familiar with Emerson's poignant lyrics, smart songcraft, and evocative voice. When they hear his new music, they'll know that he is on the verge of a significant new chapter in an already-illustrious career. I'm proud that he is joining the Manhattan artist roster."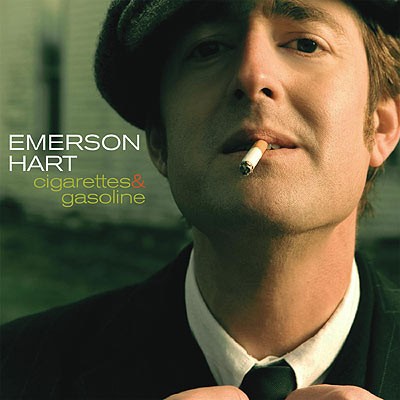 As former lead singer for alt-rock radio and concert favorites
Tonic
, Hart enjoyed platinum sales, chart topping singles and albums--including the # 1 hit "If You Could Only See"--and two Grammy nominations in 2003.
Manhattan Records released Emerson Hart's solo debut in the summer of 2007, but
Cigarettes & Gasoline
is still making waves with its second single, "I Wish the Best For You".
"I Wish the Best For You" Streaming Audio:
Windows
|
Quicktime
|
Real
(Streaming audio and/or video links may expire without notice)