Former Pussycat Doll Carmit Bachar Welcomes Baby Girl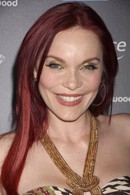 Former Pussycat Dolls star Carmit Bachar is a first-time mom after giving birth to a baby girl.

The singer/dancer and her fiance Kevin Whitaker became proud parents to Keala Rose on September 18th.

In a series of posts on her Twitter.com page, she writes, "The journey was long but our precious baby girl has arrived. My fiance Kevin Whitaker & I would love to introduce 'Keala Rose' born 9/18/11.

"Thank you all for the beautiful messages & support. This was an incredible experience & new chapter in life. Keala means 'the path' in Hawaiian.

"The blessings r overwhelming! Luv 2u all! Motherhood is challenging & indescribably beautiful! Pronounced KAY-ALA 7lbs15.2oz our light angel."