Former President Bill Clinton Tried To Get Led Zeppelin To Reunite For Hurricane Sandy Benefit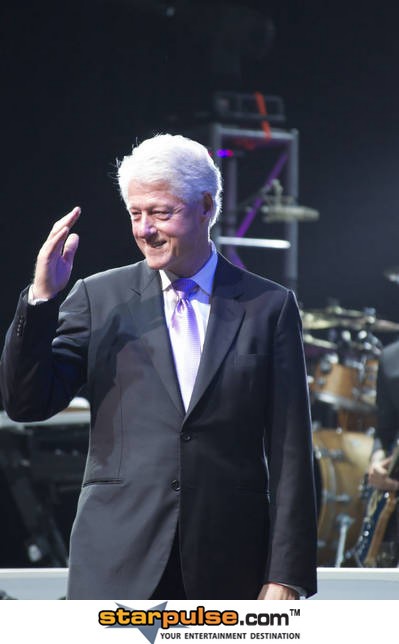 Former U.S. President Bill Clinton tried to get Led Zeppelin to reunite for the first time since 2007 for last year's Hurricane Sandy benefit in New York City.

Clinton tried to convince Robert Plant, Jimmy Page and John Paul Jones while they were in Washington D.C. last December for the Kennedy Center Honors.

Davide Saltzman, director of the Robin Hood foundation, which organized the 12-12-12 concert at Madison Square Garden, told news show "60 Minutes" Sunday night that he and movie producer Harvey Weinstein put Clinton up to the task.

"There were two bands that we were trying desperately to recruit, one was Rolling Stones, the other was Led Zeppelin," Saltzman said.

"[Harvey Weinstein] had this great idea that we could enlist Bill Clinton to convince Led Zeppelin to reunite to perform at the 12-12-12 concert," he adds. "So, Harvey and I got on a plane to fly down to Washington to meet with President Clinton who was going to be seeing the members of Led Zeppelin, who were being honored at the Kennedy Center.

Clinton immediately wanted in on their plan and tried to personally get the group to reunite, but ultimately, "they wouldn't do it."

Organizers were able to get the Stones, along with several other top-billed acts for the benefit, like New Jersey hometown heroes Bruce Springsteen and Bon Jovi, The Who, Eric Clapton, Roger Waters and Paul McCartney

The foundation raised $50 million to help victims of the October 29 superstorm that killed 120 people in New York and New Jersey.

Led Zeppelin's last reunion came in 2007, when the surviving members of the band were joined by late drummer John Bonham's son Jason at London's O2 Arena for a tribute to late music producer Ahmet Ertegun.