Former Playmate Suzanne Stokes Facing Felony Drug Charge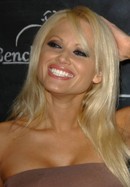 Model/actress Suzanne Stokes is facing a drug possession charge following an arrest in Los Angeles in the early hours of Wednesday.

The former Playboy Playmate, who once appeared on hit TV sitcom Frasier, was questioned by police after driving past a stop sign in Hollywood.

Cops discovered she already had a warrant out for her arrest stemming from a previous traffic violation and a search of her car turned up a stash of methamphetamines, according to TMZ.com.

The 31-year-old blonde was booked for the felony and released hours later on $11,000 bail.