Former British Prime Minister Margaret Thatcher Dies At 87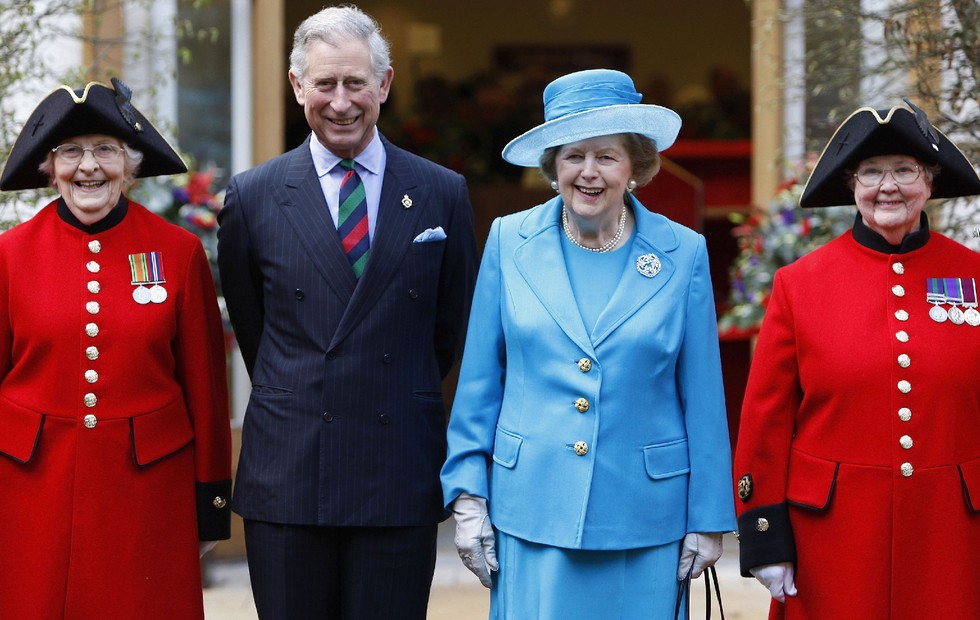 Former British Prime Minister Margaret Thatcher has died at the age of 87. The veteran politician, nicknamed the 'Iron Lady' for her staunch anti-communist stance in the years following World War II, passed away on Monday after suffering a severe stroke.

Family spokesman Lord Tim Bell confirmed the news from Thatcher's son, Mark, and daughter, Carol.

"It is with great sadness that Mark and Carol Thatcher announced that their mother Baroness Thatcher died peacefully following a stroke this morning," said Bell.  

Current British Prime Minister David Cameron states that, "It was with great sadness that l learned of Lady Thatcher's death. We've lost a great leader, a great prime minister and a great Briton."
Meanwhile an official statement from Buckingham Palace on behalf of Queen Elizabeth II reads, "The Queen was sad to hear the news of the death of Baroness Thatcher. Her Majesty will be sending a private message of sympathy to the family."

The conservative politician made history when she became the U.K.'s first female Prime Minister in 1979, and she remained in office until 1990, a twenty-one year stay that made her the longest reigning prime minister in Britain's 20th century history.
 
Born as the daughter of a grocery owner, she climbed her way through the social ranks on her own merit. She trained as a lawyer and gave birth to twins. She continued to drive herself forward, winning a seat for the Conservative Party in Finchley, London in 1959. Margaret continued onwards and upward to become Secretary of State for Education and Science under the administration of Prime Minister Edward Heath in 1970, and took over from him as Conservative Party leader in 1975. By '79, Thatcher had brought the Conservative party back into power.

While her first few months in office were turbulent due to the existing economic recession, there was a successful rebound back to economic growth following the 1982 Falklands War. But the Falklands War was not the only martial struggle the Iron Lady would have to endure in her early career. She also had to face troubles in Northern Ireland, including an increase in violence in the region, and a series of hunger strikes among prisoners. Her own life became imperiled as she narrowly escaped assassination in 1984 when an Irish Republican Army bomb detonated at the hotel she was staying at during a Conservative Party conference in Brighton, England. Five of her colleagues were killed, but the Iron Lady continued on.

During her time in office, Thatcher's controversial policies included a clampdown on the country's influential trade unions, which led to crippling walkouts, as well as privatization of national state-owned companies such as gas and electricity providers.

She was also instrumental in the reforming of the tax laws in the Great Britain, many of which led to outright revolt. Thatcher's highly controversial community charge, also known as the 'Poll Tax', irreversibly blighted her third term in office and she resigned as Prime Minister and Conservative Party Leader in 1990. After her time in office ended, she was dubbed Baroness Thatcher of Kesteven in the County of Lincolnshire, England - an entitlement which allowed her to sit in Britain's House of Lords.

In 2003, her husband passed away, and the Baroness later suffered a number of strokes which limited her public appearances. She was famously portrayed by Hollywood actress Meryl Streep, who won an Oscar for playing Thatcher in 'The Iron Lady' as well as by Lindsay Duncan in 2009 made-for-TV-movie Margaret, as well as Andrea Riseborough in 2008's 'The Long Walk to Finchley.'

The Baroness passed away April 8th, 2013, after suffering a severe stroke at the Ritz hotel in London.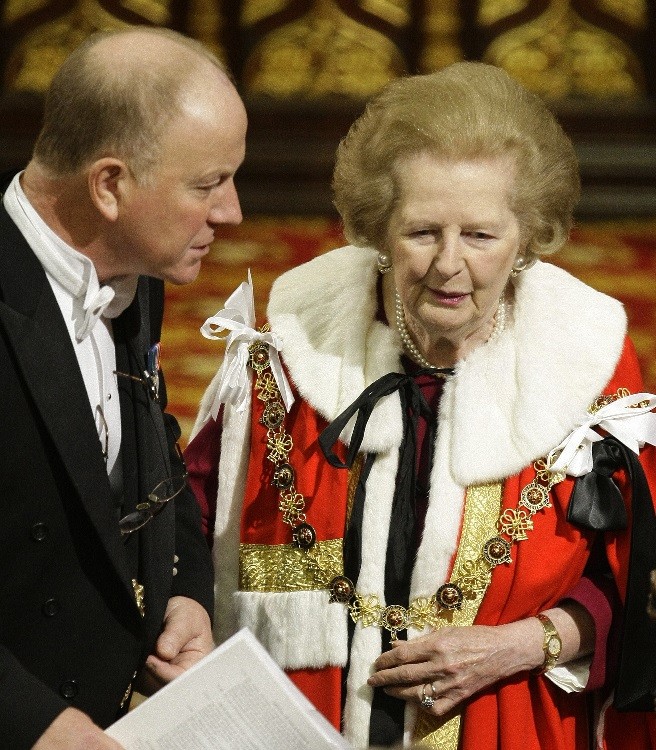 However, world leaders, politicians and celebrities from U.S. President Barack Obama to British singer Harry Styles have remembered Baroness Thatcher.
President Obama released a statement hailing Thatcher as an inspiration to women across the world, saying, "The world has lost one of the great champions of freedom and liberty, and America has lost a true friend. As a grocer's daughter who rose to become Britain's first female prime minister, she stands as an example to our daughters that there is no glass ceiling that can't be shattered."

Former British Prime Minister Tony Blair, who led the party in opposition to the Conservative Party says, "Very few leaders get to change not only the political landscape of their country but of the world. Margaret was such a leader. Her global impact was vast. You could not disrespect her character or her contribution to Britain's national life."

The news did not strictly include political figures, but also entertainers with former Spice Girl Geri Halliwell calling former Prime Minister Thatcher an inspiration, Tweeting, "Thinking of our 1st lady of girl power, Margaret Thatcher, a green grocer's daughter who taught me any thing is possible..."

Welsh opera singer Katherine Jenkins also pays homage to the Spice Girls' 'girl power'  adage, writing, "RIP Baroness Thatcher. I will always fondly remember the afternoon tea & chat at your home. Girl power."

Duran Duran member Simon Le Bon added, "Goodbye to Mrs Margaret Thatcher," while One Direction's Harry Styles offered, "RIP Baroness Thatcher x".

Joan Collins concludes, "Very sad Baroness Thatcher has died she was a great Prime Minister. She never gave up and never gave in, more than you can say for some."

Left wing news caster Piers Morgan adds, "Brave, divisive, formidable, tough, stubborn, dominant & domineering, Margaret Thatcher bestrode the world like a political colossus. RIP... Love her or hate her, few British Prime Ministers in history were so well known, or so admired, here in America."

Finally, actress Elizabeth Banks writes, "RIP Margaret Thatcher. A role model for women & young girls across the world. Also, my high school Halloween costume."
 
But that's not all. Not even a day has passed and already a tribute play is already in the works. The play features Helen Mirren as Queen Elizabeth II and focuses on the monarch's dealings with the British prime ministers who have served during her reign.

It features actress Haydn Gwynne as Thatcher, and it has just been performed that a tribute will take place before the show's maiden voyage on Monday, April 13 at London's Gielgud Theatre.