Forgotten Friday Flick - 'Three O'Clock High'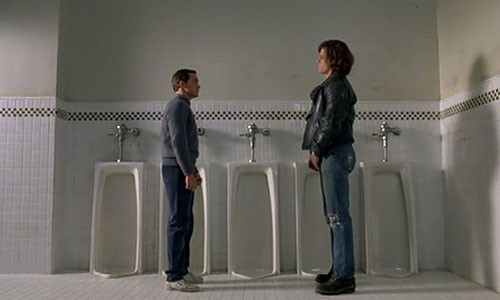 After seeing the striking new film "The Perks of Being a Wallflower" recently to assess it's Top Ten traits for this year's Best of list (good, but didn't make it – sorry!), it reminded me of a past high school flick that got some unnecessary bad vibe detention when it first came out back in 1987.  (Ebert gave it one one damn star!)  Well, time to let the cool kids run free – welcome to Forgotten Friday Flick!  This week we're heading back to class for a little afterschool fight action in the form of a very funny and witty high school rendition of the classic David and Goliath story...gone bad.  Big kid, little kid, in the parking lot, all at..."Three O'Clock High."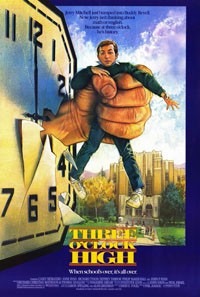 Jerry Mitchell is a good High School kid about to have a very bad day.  He woke up late, nearly got into an accident driving to school and to top it off he's been assigned to write an article about a new guy that has just transferred in.  But this is no ordinary student.  His name is Buddy Revell and depending on whom you listen to he's got a past that would make Al Capone look meek.  A delinquent past, serious attitude problem, anger issues and a strong and steadfast dislike of being touched are just a few of the rumors floating around school about the new criminal celebrity.  But things go from bad to worse when after approaching an annoyed Buddy, Jerry makes the mistake of patting his arm and learns the touching rumor is very true.  Buddy slams Jerry into a nearby wall and sets the fight terms – three o'clock, afterschool, in the parking lot.
What follows is pure comedy gold as Jerry spends the school day trying desperately to get out of the fight at all costs.  And the meek Mitchell leaves no stone unturned – from stealing from the school store to pay off a bodyguard to seducing a teacher to get some well deserved detention, but all to no avail.  "Three O'Clock High" has a fabulous story, rife with comedy, drama and a pinch of cool and it's the blueprint that gives it a leg up from other school comedy fare.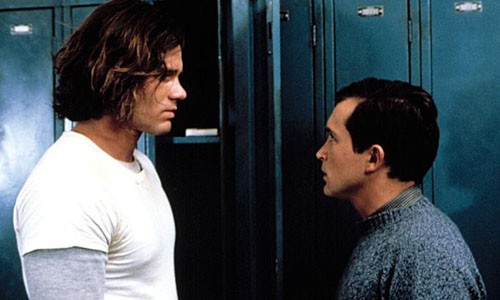 But it's both the stellar direction and fantastic performances that truly make "Three O'Clock High" a teen scene winner.  As early helmed work by filmmaker Phil Joanou ("State of Grace" and "Heaven's Prisoners" anyone?!), his direction is inspiring stuff to watch.  Lots of fast cuts, fast laughs and a real sense of both story and style make Joanou the right man for the job.  And as his lead nerdy muse, a young Casey Siemaszko as the timid Jerry is pitch perfect casting – a great mix of geek and chic that carries the flick beyond B-movie territory.  Of course no movie would be complete without a memorable bad guy and as the man with the anger plan Richard Tyson's Buddy Revell is one mean mother.  With just a look, a movement or even a deep stare, Tyson creates one of the scariest foes the teen screen has seen.  (And it's by far Tyson's best work!)  But the great character joy doesn't stop there, as "Three O'Clock High" is littered with memorable side turns by some very notable actors.  Best of the bunch include the tomboy best friend (Anne Ryan in a early "Some Kind of Wonderful" Mary Stuart Masterson like role!), the hip security guard (a pre "X-Files" Mitch Pileggi), the naive school store runner (hey now – it's Jeffrey Tambor!), a cop looking for answers (pre-"Seinfeld" Philip Baker Hall in full Bookman mode!) and especially sexually repressed teacher Miss Farmer (the fetching Caitlin O'Heaney!) all add a little spice.
All of the above matched with some great music via 80's wunderkind Tangerine Dream, some lush cinematography from Barry Sonnenfeld before he began directing, a tasty poster from famed one-sheet master artist Drew Struzan and rumored heavy involvement during the production from Steven Spielberg (who reportedly took his name off due to disagreements with Executive Producer Aaron Spelling!) make "Three O'Clock High" one of the best High School flicks you haven't heard of – just don't touch the box.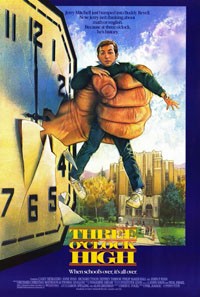 Title: "Three O'Clock High"
   Stars: 5
   Genre: Comedy
   Cast: Casey Siemaszko, Richard Tyson, Anne Ryan
   Director: Phil Joanou
   Rating: PG-13
   Running Time: 101 Minutes
   Release Company: Universal Studios
   Website: http://en.wikipedia.org/wiki/Three_O'Clock_High