Forgotten Friday Flick - 'The Principal'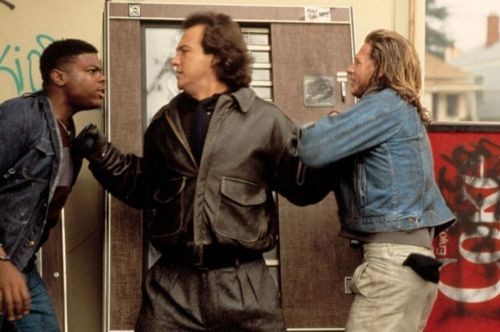 Since demand for good movies at the end of summer is tough, we felt it was time to fight fire with fire with our own hard hitting selection to end the season off right – welcome to Forgotten Friday Flick!  Today's blast from the past puts a notorious funnyman in the hard guy hot seat and pits him against a school of baddies looking to protect their turf and rep.  When hard luck high needs someone to clean up the hallways who do you call?  Who else..."The Principal."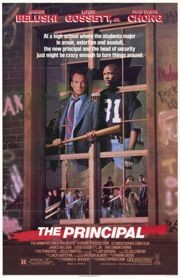 Rick Latimer is a drunk and it's not hard to understand why.  He's works as an uninspired job as a high school teacher, shares bar time nightly with his fellow drinking buddies and has been dumped by his now ex-wife.  But when she comes into his bar one night with the lawyer who represented her in the divorce, hot headed Rick grabs a bat and goes to town.  Needless to say in lieu of being fired, the stern school board decides to make the rough and tumble educator a principal…of Brandel High.  The school is the last stop for criminals, drug dealers and gang members out to prove their worth – and garbage never leaves the dump.  But for a skating on thin ice troublemaker like Rick the school becomes an unlikely opportunity and with the help of Jake, the sassy head of security, the new principal decides to risk life and limb and clean house.
What's most uncanny about "The Principal" considering its lead is that the film is not a comedy.  Meaning head man James Belushi, who would eventually become synonymous with sitcoms and everything comedic, pulls out a single, focused and utterly believable dramatic performance as the down but not out principal and its fantastic work.  I actually remember being surprised by how little serious work Belushi took on later, as his new action/drama persona felt so right in "The Principal."  Of course he was under the eyeful watch of Director Christopher Cain (who also made the stylistic "Young Guns") who seemed to get just the right amount of drama laced with a pinch of humor to make Belushi shine.  (Unfortunately the latter "K-9" films leaned more towards the goofy side!)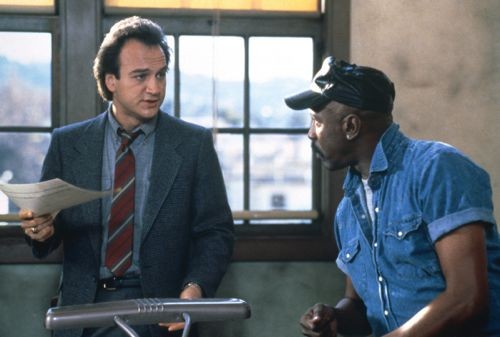 And he does burn bright here, kicking ass (he smacks a kid upside the head to maintain discipline!), talking sass (someone has to clean up his crap apartment – not him!) and motorcycling riding while taking out the trash (through the halls no less!) – he's a tough guy to root for.  But a good guy is only as decent as his evil foe and as influential gang leader Victor Duncan, "V" alum Michael Wright is one slick and slimy bad dude.  Add to that some Louis Gossett Jr. as both muscle and brains helping Belushi and you've got a flick that has never gotten its due – until now.
I say Belushi should step out of his brother John's comedic shadow and go back to this kind of work where he truly excels.  Proving he can go toe-to-toe with kids of Brandel was no fluke and I for one salute the tough guy prowess of Belushi's Rick Latimer.  The burly everyman educator can certainly crack a joke, but cracking skulls is a hidden talent that should finally stand up and be recognized.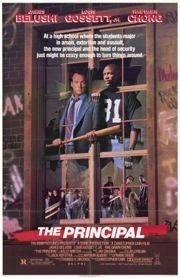 Title: "The Principal"
   Stars: 5
   Genre: Drama
   Cast: James Belushi, Louis Gossett, Jr., Rae Dawn Chong
   Director: Christopher Cain
   Rating: R
   Running Time: 110 Minutes
   Release Company: Tristar Pictures
   Website: www.SonyPictures.com