Forgotten Friday Flick - 'The Adjuster'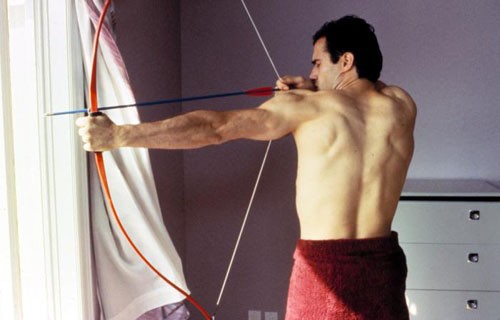 Since the first week in January always tends to be slow at the movies, I thought it only appropriate to highlight a flick equally as unhurried.  Insurance men, censors and rich eccentrics looking for life meaning – welcome to Forgotten Friday Flick!  From famed and brilliantly underrated film director Atom Egoyan, this week's title is his true five-star hidden gem.  A marvelous movie that not only had a long lasting affect on me as a movie and cinema lover, but is without question in my top five favorite films of all time.  It centers on the world of a calming and sensitive, yet torn up inside insurance adjuster who goes above and beyond for his weary clients.  Welcome to Egoyan's mesmerizing 1991 film..."The Adjuster."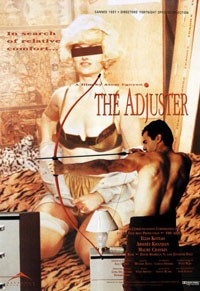 Noah Render is not your typical insurance man.  He's an adjuster with a specialty in dealing with the unfortunate victims of home fires who have lost everything.  His job is simple on paper – make a list of every item in the house, give it a value and submit a claim.  But being much more involved on a seriously emotional level, Noah finds himself engrossed and entangled by all the hardship, sorrow and grief that befalls his clients.
Noah's wife Hera has some quirky fetishes of her own.  As a censor for movies, Hera deals with the filth of film day in and day out, but has found solace with her mother, whom she secretly records all the films she watches for.
Finally there is rich and jaded Bubba and Mimi, a couple who go to strange lengths to keep from being bored and thus get the most shock out of life.  So when Bubba spots Noah's house and is taken by it, the paths of these individuals finally crosses to some interesting results.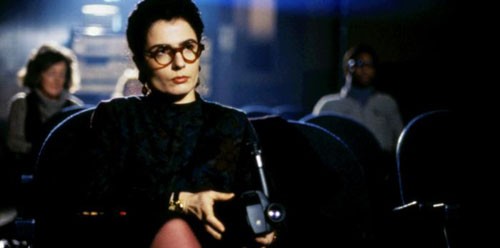 I could write a synopsis that would be similar to a detailed dissertation, but some things have to be experienced.  Leave it to the layered and nuanced genius of Egoyan – he never met a story he couldn't make more creatively complex.  And "The Adjuster" is Egoyan's cinematic swan song, a positively riveting, moving and totally engrossing film that stays long in the psyche.  Using each of his lead characters as a symbol of the overall theme – Noah as a modern day metaphoric Robin Hood, Hera as a stoic symbol of acceptance and Bubba and Mimi an embodiment of the continued search for the meaning of life – Egoyan carefully plots every move and moment with total precision.  (It may seem like a wild Lynchian style, but the greats make it look easy!)  With a method to his emotional madness, Egoyan and "The Adjuster" marks a real step forward for films that dare to be different. (The whole 'High School Confidential' sequence is something I'll never forget!)  
Plus Egoyan's keen eye for casting here is the filmmaker at his best.  With wife and muse Arsinee Khanjian as the reserved wife, Maury Chaykin as the disillusioned Bubba and Gabrielle Rose as the ever-grinning but never satisfied Mimi, Egoyan just knows the best man – or woman – for the job.  (Plus look for early Don McKellar and David Hemblen in fabulous small roles!)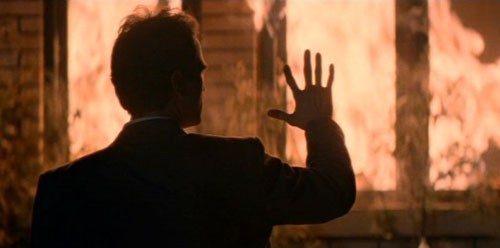 But never has Egoyan's selection prowess been more in tune then with the casting of a then young Elias Koteas as the intricate Noah Render.  Having come off standard yet still memorable stints including Duncan the skinhead in "Some Kind of Wonderful" and human protagonist Casey Jones in "Teenage Mutant Ninja Turtles," Koteas simply needed a director to help him more deeply showcase his incredible range – and Egoyan, the right man for the job, delivered handsomely.  Koteas becomes and virtually embodies the sadness, confusion and overall woe of Noah Render and creates something truly unique – it's by far the best work of his career.
What's most interesting about Egoyan as a filmmaker is that he's a director who has always prided himself on helming stories that take time.  From his early personal work like "Family Viewing" and "Speaking Parts" right through to 2009's sexually charged "Chloe," Egoyan stays steadfast style wise and remains a source of original movies. 
It's funny that most remember Egoyan for the Oscar nominated film "The Sweet Hereafter" and hail it as his masterwork.  While seemingly more accessible on the surface to the mainstream audience, Hereafter's hidden wares were still the same Egoyan staple that made the man such a gem in the first place.  But "The Adjuster," his true masterpiece, by far outshines the rest and is just a culmination of the right amount all things Egoyan coming into perfect alignment – no adjustment needed.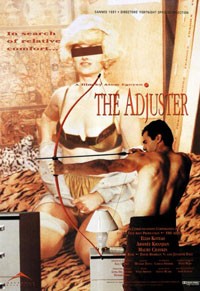 Title: "The Adjuster"
   Stars: 5
   Genre: Drama
   Cast: Elias Koteas, Maury Chaykin, Arsinee Khanjian
   Director: Atom Egoyan
   Rating: R
   Running Time: 102 minutes
   Release Company: MGM
   Website: www.mgm.com/dvd