Forgotten Friday Flick - 'Streets of Fire'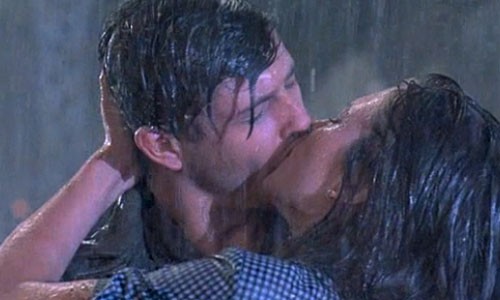 With the gangs with guns flick "Lawless" hitting theaters this week, it felt time to dust off a similar flick with its own share of bad guys, hot girls and tough men out for some payback – welcome to Forgotten Friday Flick!  This week we're heading on back to 1984 to partake in a little film that at the time was being described as 'A Rock & Roll Fable'.  It's a slick flick that not only had a memorable cast, but was also helmed by one of my favorite filmmakers Walter Hill.  (Which also means some tasty Ry Cooder music accompaniment!)  So load up your gun, put on your trench coat and get ready for war...on "Streets of Fire!"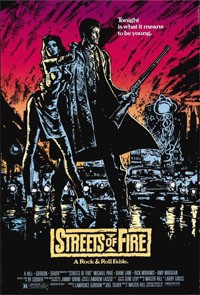 Singer Ellen Aim and her famed band The Attackers have returned to her hometown to play a sold out concert.  But regular fans aren't the only ones in the audience, as baddie Raven Shaddock and the members of his local biker gang The Bombers are also in attendance.  In a show of brute force, Shaddock storms the stage and kidnaps the lovely Aim.  Witnessing the event, Reva Cody sends word to her brother Tom Cody, an ex-soldier and ex-boyfriend of Aim to come back to town and rescue the singer.  Tom strolls in with recently acquired sidekick McCoy and is given a proposal by Aim's new geeky boyfriend and manager – bring back Ellen for the cost of $10,000.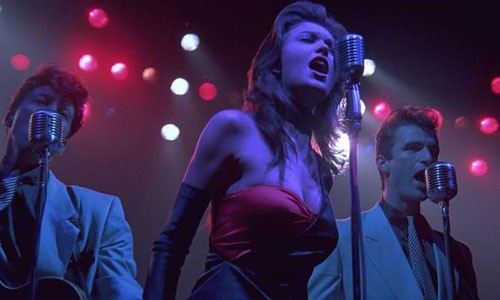 Granted the story for "Streets of Fire" isn't going to win any screenplay Oscars for originality, but it's the style and character cool that makes this film shine.  Under the ample eye of Director Walter Hill (post "The Warriors" and pre-"Johnny Handsome!"), "Streets of Fire" looks as colorful as the characters that inhabit it.  Dark hideouts, flashy clubs and wet streets ripe for gunfire, the film prides itself on creating worlds unknown – and succeeds.  Not to mention that a continued collaboration between Hill and his music muse Ry 'Slide Guitar' Cooder makes for some savory sounds that put the roll in "Streets of Fire's" rock.
But it's the character work of all involved that makes "Streets of Fire" worth mentioning at all.  Authentic, sometimes over-the-top and definitely larger than life, all the leads here prove notable; a hot Diane Lane as the sultry Ellen Aim, the quirky Amy Madigan as tough tomboy McCoy, the viciously inspired Willem Dafoe as the unstable Shaddock ("I'll be coming for her – and I'll be coming for you too!") and especially a young Michael Pare as the silent and sullen Tom Cody ("Sure you will – and I'll be waiting!") all give these streets their titular heat.  (There's also some interesting side work from the likes of Bill Paxton, Rick Moranis, The Warrior's Deborah Van Valkenburgh and Robert Townsend!)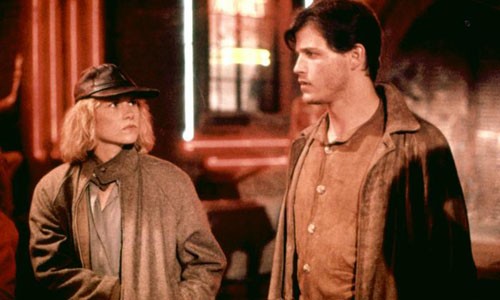 Plus I must admit I always liked and felt that film partners Cody and McCoy had an unspoken connection and be it respect, friendship or perhaps even some underlying romantic chemistry, their pairing here adds even more complex layers to a film dedicated to relationships at all costs.
I won't lie.  There is some cheese within Streets that makes its selection on any list a guilty pleasure (the hair helmets on Moranis and Paxton alone scream cheddar!), but I wear the fromage fan button proudly.  There's a great sounding, great looking and uber-cool character vibe within the world of "Streets of Fire" that for me makes it rise above simple cult status.  Be it the Hill's vision, Cooder's sounds or Pare in fine full blown tough guy mode, the fire built on these streets is cinematic combustion at its best.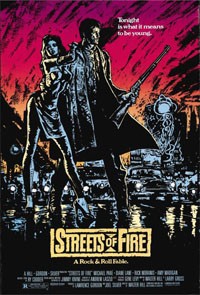 Title: "Streets of Fire"
   Stars: 4 1/2
   Genre: Thriller/Drama/Action/Musical
   Cast: Michael Pare, Diane Lane, Amy Madigan
   Director: Walter Hill
   Rating: PG
   Running Time: 93 Minutes
   Release Company: Universal Pictures
   Website: www.universalpictures.com