Forgotten Friday Flick - 'Jack's Back'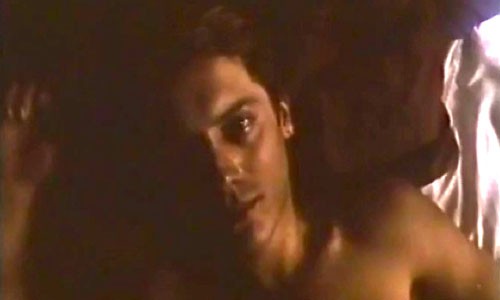 Since a dark film with fantastic performances caught my attention this week (see the five-star film "The Divide" folks!), I thought I'd go back to a equally dim film with a couple of fabulous characters – but played by the same man!  Welcome to...Forgotten Friday Flick!  Today's selection is from the James Spader school of memorable work (and that's one busy classroom!), as he plays two different but equally impressive brothers both out on the prowl for a serial killer with an affinity for repeating the ripper.  Watch out for "Roadhouse" director Rowdy Herrington's 1988 directing debut..."Jack's Back."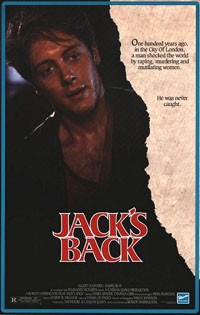 It's a dangerous time in Los Angeles, as there's a serial killer on the loose.  Worse, the culprit is using the original Jack the Ripper murders as inspiration to commit a gaggle of copycat crimes for the 100th birthday of the events.  Through some original case coincidences  (the fact that Jack was thought to be a medical man based on his precision cuts) and actual facts (he killed prostitutes) a young and caring doctor by the name of John Wesford stumbles upon what he believes is the answer to the murder mystery.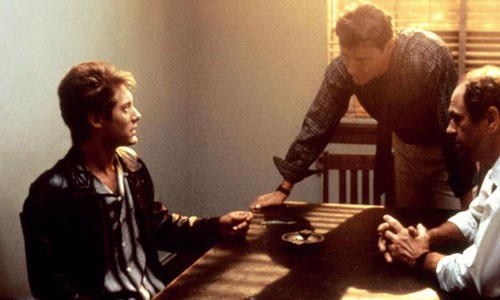 On the other side of the tracks is Rick Wesford, John's opposite twin brother who has had more than his fair share of bad luck with the law.  He awakes from a nightmare involving John, also becomes convinced that he knows the truth about the murders and sets out to catch the killer.
For a first time film, writer/director Rowdy Herrington doesn't go easy on the complexities.  It's one of the many blessings of "Jack's Back," namely the adding of more and more dramatic story layers to intelligently keep the audience guessing.  And there's a lot of mystery surrounding each of the characters in the film that gives a smart Hitchcockian type vibe making everyone a potential suspect.
There's a decent supporting cast including Cynthia Gibb as a local doctor (and hottie!) friend of John, Robert Picardo as a hypnotizing psychiatrist out to help Rick with his piercing visions and Rod Loomis as John's surly boss.  (Plus there's even some early Chris "Patti Rocks" Mulkey to boot!)

But Herrington is also clever enough to know that such intricate work requires an actor of equal detailed prowess and he finds it in his ample leading man James Spader.  Playing both a good natured empathetic doctor John and his selfish bad apple brother Rick, Spader gives both characters slightly different nuances and physical traits to create two very distinctively dissimilar people with equal gusto.  Plus the real beauty of Spader's relaxed work here is how effortless he makes playing these two seem – the result of an actor that does his homework.
But at its heart, the film soars due to the cool collaboration of Spader and Harrington.  The duo tried to rekindle the magic in 2002 with the lackluster film "The Stickup," but next to "Jack's Back" it just felt like watered down film fluff.  The passion, attention to detail and sheer dramatic exuberance of early Harrington in the raw and hungry Spader acting quick on the draw is what makes "Jack's Back" such a cinematic treat – the first time is always the sweetest.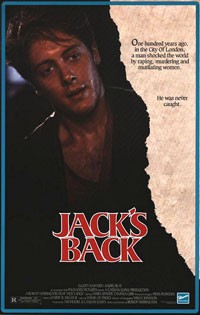 Title: "Jack's Back"
   Stars: 5
   Genre: Drama/Thriller/Mystery
   Cast: James Spader, Cynthia Gibb, Robert Picardo
   Director: Rowdy Herrington
   Rating: R
   Running Time: 97 Minutes
   Release Company: Paramount Pictures
   Website: www.imdb.com/title/tt0095389/