Forgotten Friday Flick - 'Happiness' - With Philip Seymour Hoffman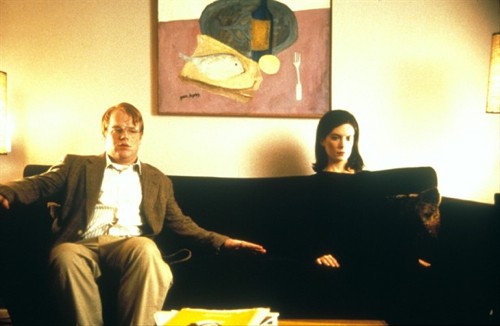 Actor Philip Seymour Hoffman passed last Sunday and the cinema world has lost a great talent.  And since his body of work is filled with so many amazing performances and memorable characters, I thought I would pay tribute to the work of the man by highlighting the one film I consider to be the best of the bunch – welcome to Forgotten Friday Flick.  This week we take a look at the world through the skewered mind of writer/director Todd Solondz via a sick, twisted and delightfully funny flick that had both critics and audiences aghast.  Taking on taboo subjects like pedophilia, sexual repression, masturbation and manipulation, Solondz and his all-star cast created one piece of work guaranteed to be unforgettable.  We're talking about the 1998 shocker..."Happiness!"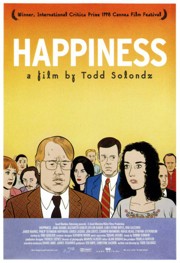 The Jordan sisters are quite a messed up bunch.  The eldest sister Trish is married to Bill who unbeknownst to her is a practicing pedophile.  So in between his work as a psychiatrist he finds time to buy teen mags and relieve himself, as well as have disturbing daydreams about committing mass murder in peaceful places.  His latest lust de jour is 11-year-old Johnny Grasso, a friend of his own young son whom Bill tries to drug when he comes over for a sleepover.  The middle sis Helen is the epitome of perfect.  Perfect clothes, perfect job, perfect boyfriends and a perfect life.  But in her wonderful world she secretly yearns to not be admired but brought down and humiliated, so when shy in-person sad sack Allen calls her with verbal barbs putting her down, she perks up.  Putting him on redial, she pursues the startled man like a cat in heat.  The youngest and final sis Joy is a lost cause.  She's a struggling musician whom everyone in the family considers without any life direction.  So she decides to leave her day gig in telephone sales and do something better – work at an immigrant education school.  Problem is she's replacing a woman who is on the picket line and as a scab is used and abused by the students.  One in particular Vlad comes to her aid at first, but of course has his own ulterior motives.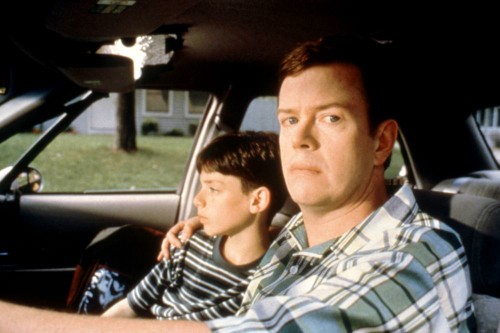 Such is the shell that makes up the very wonderfully complicated story weaving that is "Happiness."  There's so much more inside like the aging parents of the three sisters played by the gruff Ben Gazzara and loud Louise Lasser, a passionate and creepy neighbor with doorman problems played by Camryn Manheim and especially Joy's first dating victim (or so she thinks!) played with relish by a never-been-better Jon Lovitz – all fill out the sick world of Solondz.  At his most poignant, funny, biting and controversial, the "Welcome to the Dollhouse" helmer ups the ante on himself and all other filmmakers by questioning the taboos that we sweep under the rug and showcases them front and center.  And so convincing is his cast, so realistic, tortured and spot on are their portrayals that the work lingers long after the film ends.  Heading up this askew team is most assuredly the calm and calculated turn by Dylan Baker as pedophile and father Bill (I cannot see Baker as anything else EVER!), followed by the timid and unsettling work by a hunched and tortured Philip Seymour Hoffman as the lonely Allen and of course there's nothing better then the hapless work by future Hung star Jane Adams as the very gullible and wide-eyed Joy.  (All of the above give their career best work by the way!) 
Solondz did revisit these characters in "Life During Wartime" using different actors with varied results, but the casting, caustic nature and unmatchable storytelling in Happiness is virtually so perfect it's almost impossible to duplicate.  It's what happens when a daring filmmaker mixes with equally daring actors to make something, well, daring.  The characters within Solondz's world may not feel Happiness, but film fans are smiling ear to ear.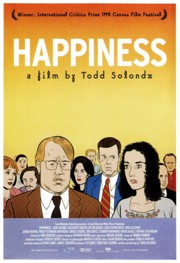 Title: "Happiness"
   Stars: 5
   Genre: Drama / Black Comedy
   Cast: Dylan Baker, Philip Seymour Hoffman, Jane Adams
   Director: Todd Solondz
   Rating: R
   Running Time: 136 Minutes
   Release Company: Good Machine