Forgotten Friday Flick - 'Goldfinger'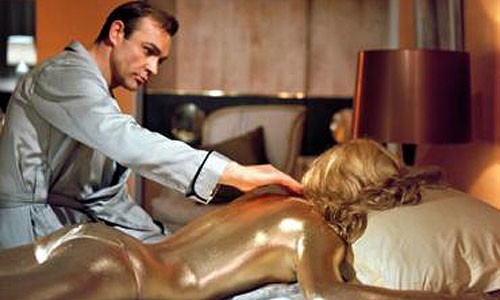 With some saying that the latest 007 outing "Skyfall" is the best Bond film in years, it felt right to highlight my favorite in the series this week.  Welcome to Forgotten Friday Flick!  While this week's selection may not be so forgotten with Bond film fans, it is nevertheless a notable outing that deserves to be highlighted and thus seen by everyone.  (Yes newcomers and young folks, this one is for you!)  It's truly Bond at his best with the hottest ladies (Pussy Galore – oh, yeah!), the baddest villains (Auric G. and Oddjob!) and the coolest gadgets – my favorite of the series.  Not expecting to talk, but fully expecting to die, it's the iconic..."Goldfinger."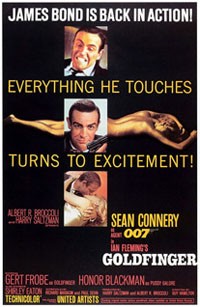 After much spy excitement, James Bond 007 is resting in Miami Beach.  But being the workaholic, he eventually finds himself observing a local bullion dealer Auric Goldfinger during his daily game of gin rummy.  Convinced he is cheating, his investigation leads to Goldfinger's very fetching assistant Jill Masterson who is indeed helping the big man cheat by observing his opponents cards.  Forcing Goldfinger to begrudgingly throw his game, Bond then turns his attention to Jill and she succumbs to his charms.  But after being knocked out and coming to he realizes someone has killed Jill through suffocation – specifically gold paint suffocation.
This is merely act one of what is probably not only the best and most engaging Bond film in the series, but also the best of the Ian Fleming novels.  So rich are the characters, so calculated is the story (operation grand slam is genius!) and so colorful are the spy tools of the trade that one can't help but be seduced by a Bond fully in his element.  First off, you have Sean Connery with a confident but not cocky swagger at the helm.  Having already made two films playing Bond, Connery truly comes into his own here, pulling off both impressive action and quick quips as if they were second nature.  Then there's the inclusion of not one but two highly memorable foils in the form of the portly Auric Goldfinger (the surly Gert Frobe does so much with so little!) and the sullen, hat throwing Oddjob (Harold Sakata scared the crap out of me as a kid!) to give Bond a run for his money.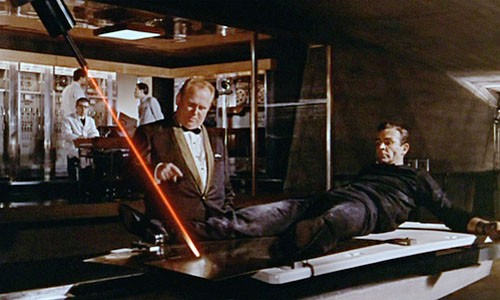 There's plenty of cool gadgets to play with (a little Aston Martin DB5 with all the seat ejecting trimmings?!), deadly machines (a little laser will make you two different people!) and lovely ladies galore.  (Shirley Eaton looks good in gold!)  But the real sweetness of this outing has to be in the form of the amorous but ass kicking tough hottie Pussy Galore played with charismatic gusto by Honor Blackman.  At a time when women were merely eye candy for the lothario crowd, Blackman brought feminism into the work of Bond, all the while keeping hotness at maximum capacity.
"Goldfinger" simply scores on all levels that a Bond film should.  With all the above and cool quotes ("You expect me to talk?"  "No I expect you to die!"), stellar song work (Shirley Bassey kicks ass!) and just enough M, Q and Moneypenny to make things interesting, "Goldfinger" is hands down the staple when it comes to a Bond film that works.  What's interesting is I've heard some say that the new "Skyfall" is the best Bond since the finger that is gold put all others to shame and if it is so be it.  But beware it takes more then just shaking and not stirring.  The fanatical audience, not unlike Bond himself, has already tasted perfection – gold has that effect.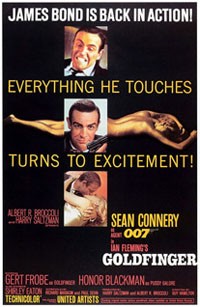 Title: "Goldfinger"
   Stars: 5
   Genre: Thriller/Drama/Action
   Cast: Sean Connery, Honor Blackman, Gert Frobe
   Director: Guy Hamilton
   Rating: PG
   Running Time: 110 Minutes
   Release Company: United Artists
   Website: http://www.mgm.com/