Forgotten Friday Flick - 'Falling Down'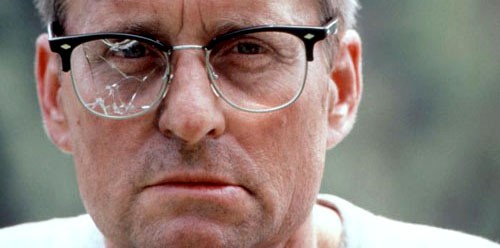 Fridays are genuinely a time when new movies hit the multiplex, plus it serves as a day of hope in anticipation of possible fresh films to come.  But alongside those current works, we're gonna start a new Friday tradition that guarantees five-star quality by revisiting memorable flicks from the past – welcome to...Forgotten Friday Flick.  From here on, every Friday we're gonna talk, dissect and go into detail on one tasty film from motion picture past.  These selections will consist of movies that are not only of the highest cinematic caliber, but also knockin' flicks you may have forgotten about, dismissed or perhaps just need to be reminded still exist for your ultimate viewing pleasure.  The good, the bold and the unbelievable, all will be hailed each and every Friday without fail – this weeks selection is the dark, gritty and genuinely moving 1993 Michael Douglas tour-de-force..."Falling Down."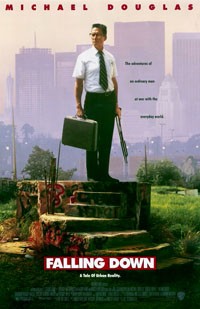 It's a typical hot LA day and a man dresses in a white shirt and tie is stuck in traffic.  With an array of various annoyances surrounding him – a decorative smirking window display Garfield, loud traffic sounds, hot engine smoke, noisy kids on a nearby bus, big wigs on cell phones, buzzing bugs – he finally opens the door for air and then ultimately decides to leave.  The man in the car behind him asks, "Where do you think you're going?"  His answer – "I'm going home."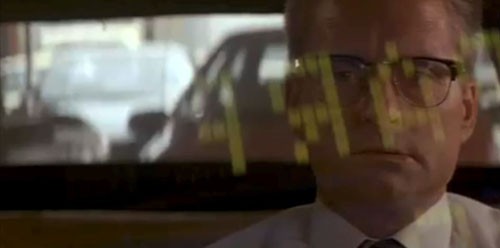 So begins the final journey of Michael Douglas's fed up character D-Fens (named after his personalized license plate - later revealed to be William Foster), a man who has reached the end of his rope.  In an attempt to regain some semblance of his previous life with ex-wife (Barbara Hershey) and little girl, he decides to head over - against restraining order - to celebrate his daughter's birthday and it's in this defiant walk that he encounters all the dark depravity that life has to offer.  Fighting with price-gouging storeowners, territorial gang members, con-men, fast food yuppies, racist psychos and entitled rich folks, D-Fens comes face to face with all the ugly and unjust parts of big city life and he decides to get even.
There's also a parallel story of a soon-to-be retired cop named Prendergast (played by Robert Duvall), a quiet and humble man whose own tragedies have made him afraid of life.  Afraid to hit the street, afraid enough to sit behind a desk and even afraid to let his overbearing wife push him into retirement.  Prendergast begins to take notice of the exploits of the mystery man and in a possible chance to redeem himself, decides to get involved in the case.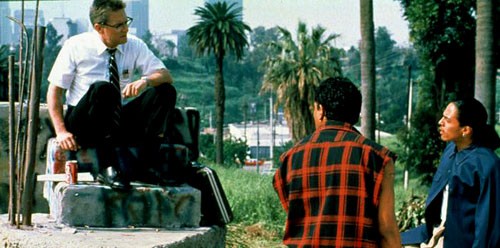 There are many things that work well within "Falling Down," but the real heart of the film is the poignant script by Ebbe Roe Smith.  As relevant now as it was back then, the seedy side of LA gets a major spotlight put upon it and for better or worse, lays it all barren with no apologies.  From the humor about flat hamburgers in a local burger joint to the sad sight of a man being carted away by cops after being turned down for a loan for not being "economically viable", Smith has his pulse on the funny, interesting and upsetting elements that make up our twisted society.  It's that frank, honest and ultimately heartbreaking realism that makes "Falling Down" so effective and it's a surprise to me that a big studio like Warner Brothers even considered making such a envelope pushing picture.  (Kudos to you!)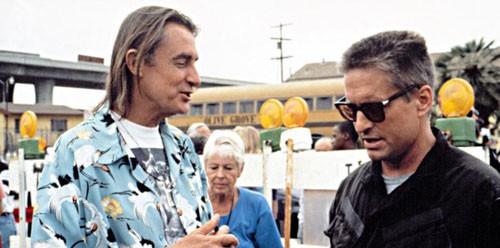 Though who would have thought that a filmmaker like Joel Schumacher who has had both ups ("The Client" kicked ass!) and downs ("Batman and Robin" – does it get any worse?!) could create such a memorably dramatic and realistic work of art.  For all the light, chic and surface films filtered throughout his years of directing, Schumacher surprisingly manages to set a perfect tone for the bleak tale of D-Fens – and it's the best film of his career.
But where would "Falling Down" be without it's pitch perfect cast and it does house some of the best.  Front and center, "Falling Down" belongs to the captivating Michael Douglas.  His grim and focused transformation into the character of man on fire D-Fens should have nabbed him a second Oscar.  Complete with short sleeves, horned-rimmed glasses and a gray buzz cut, his man who's had enough is one the least scariest cinematic bad guys ever – which also makes him one of the most joyfully unpredictable and dangerous.  Mix that in with Robert Duvall's timid cop, his wailing wife Tuesday Weld and Frederic Forrest's sinfully racist and sexist Nazi Surplus Store freak and you've got a movie that relishes actors that fit the roles.  (Plus check out the underrated Raymond J. Barry as Duvall's machismo dripping boss!)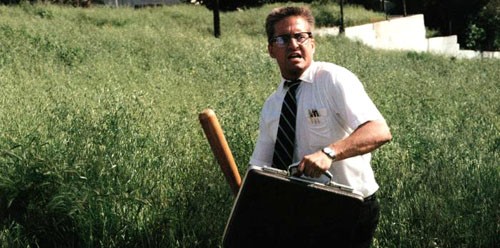 In the end it's the relatable tale of a man who loses everything and turns to the dark in an attempt to gain back what originally brought light that makes "Falling Down" worth re-watching.  At a time now when so many are facing the same trials and tribulations as not-so-fictional character D-Fens, "Falling Down" feels more pertinent now more then ever.  Douglas, Schumacher and the rest of the gang created one amazing piece of cinema that should not be ignored – "Falling Down" as a film still stands tall.              
____________________________________________________________________________________________________________________________________________________________________________________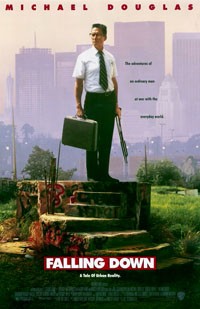 Title: "Falling Down"
   Stars: 5
   Genre: Drama/Action
   Cast: Michael Douglas, Robert Duvall, Barbara Hershey
   Director: Joel Schumacher
   Rating: R
   Running Time: 112 Minutes
   Release Company: Warner Bros.
   Website: www.warnervideo.com