Forgotten Friday Flick - 'Deep Cover'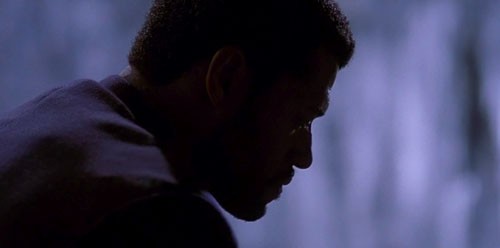 Well, movie geeks and gals it's Friday once again and you know what that means – Forgotten Friday Flick time!  So for those who want to balance the current comedy of Eddie Murphy and Harold and Kumar with a little thoughtful drama this week's past pick is for you.  A stylistic, edgy and all out impressive film about a careful cop who goes undercover and gets more than he bargained for.  This week's pick for a flick not to miss – Bill Duke's 1992 cop/criminal opus..."Deep Cover."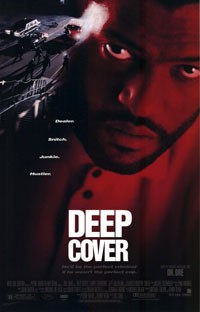 "Those guys – after work they went home to their wife and their kids.  And then one day on the street they forget where they were and now they're dead.  But you will never go home, so you won't forget.  Because there's only one rule in this game John – don't blow your cover."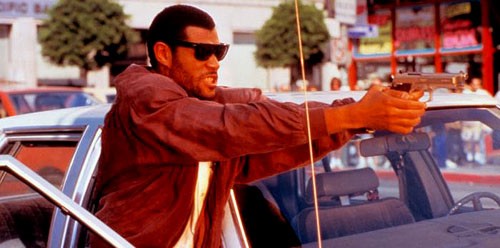 Right from the opening credits that sizzle with distinct style of slow motion and the sway of the song 'Love or Lust,' we get that "Deep Cover" is gonna be something different.  Forgoing the typical undercover detective stories of the past and thus shattering the cop-in-deep stereotype, the script by Michael Tolkin (who also wrote the witty "The Player") and Henry Bean (who then went on the write and director the Ryan Gosling standout vehicle "The Believer") is a riveting tale of walking the balance of good and bad and the lure of ultimate power that can corrupt even the most moral of men. (Not bad for a simple cop story!)
Officer Russell Stevens, Jr. (Laurence Fishburne) is a stern, but stable policeman who seems to be biding his time and waiting for something.  Having seen his junkie father killed at a young age while trying to rob a liquor store, Stevens has made a lifelong vow to never go down the path of the criminal, avoiding everything from drugs to booze.  But when yuppie DEA Special Agent Gerald Carver (Charles Martin Smith) confronts him about leaving behind the straight and narrow and going deep undercover to facilitate a major drug sting in LA, the moral Stevens suddenly finds himself at a crossroads.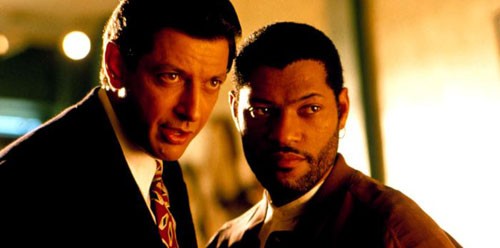 Though once he decides to take the job, his noted psychological profile of repressed violence, a rigid moral code and long list of other faults suddenly become virtues in the field and the previously guarded cop finds himself slowly becoming a star.  Now as the suave drug dealer John Hull, he first begins his assignment with the street hustlers, making buys and impressions equally.  He eventually gets the attention of drug attorney David Jason (Jeff Goldblum), who takes him under his wing and together the two go on a wild ride through buys, money laundering and the possibility of creating a legal synthetic drug – all in a days work for a moral man on a mission.
There is a lot of cool exposition, story devices and twists and turns throughout "Deep Cover" way to intricate and detailed to go into here, but needless to say the journey taken by Fishburne's cop is not a typical '21 Jump Street' fluff fest.  The real consequences of selling drugs on the street, having to literally kill the competition and witness horrible acts of atrocious violence and do nothing is what waits for John Hull and the sudden flush of power and prestige makes him question which side he's on.  As the conflicted cop, Fishburne is the perfect person to pull off this complex material.  His authoritative demeanor and tone (ever so effective for the voiceovers throughout the film!) mixed with a seemingly real fear of becoming what he truly despises makes for one gripping performance you can't take your eyes off of.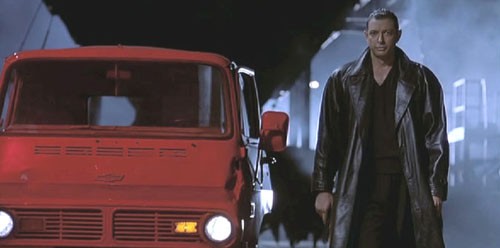 Of course it helps that he's also surrounded by top notch actors like morality-of-the-tale Clarence Williams, III as a local street cop and Charles Martin Smith as the superior with ulterior motives, but best of the bunch is Jeff Goldblum as Hull's would-be-partner in crime David Jason, whose unpredictable and chameleon-like performance going from scared straight man to bold trench coat wearing tough guy is by far his best work in an already stellar career. 
Though in the end the real element that makes "Deep Cover" a standout is Director Bill Duke.  Hot off the equally impressive (and seriously underrated!) "A Rage In Harlem," Duke shows true cinematic savvy with "Deep Cover" and its stand out stuff in every way - a director at the peak of his powers.  From his arresting musical choices (Snoop Dogg and French composer Michel Colombier both in the same film – genius!) to memorable visuals (Michael Mann has nothing on the style in this flick!), Duke showed with "Deep Cover" that he was a directing force to be reckoned with and made all naysayers stand and take notice.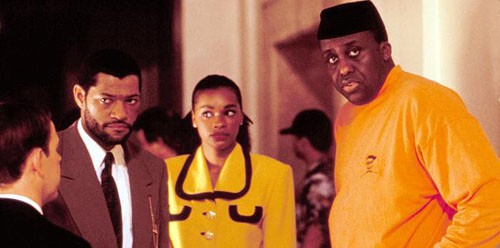 Unfortunately "Deep Cover" would be the last of the finest for the fast falling Duke.  (As a director anyway!)  His forgettable follow ups afterwards including "Hoodlum" (boring!), "The Cemetery Club" (sappy!) and "Sister Act 2: Back in the Habit" (embarrassing!) seemed like the work of a different guy who had all but abandoned his five-star style (which he toyed with in Rage and then perfected in Cover!) in lieu of an easy sellout paycheck.  But thankfully cinema lasts forever and his clever cast, super staging and signature style will always be embedded deep within the dramatic depths of "Deep Cover."         
_____________________________________________________________________________________________________________________________________________________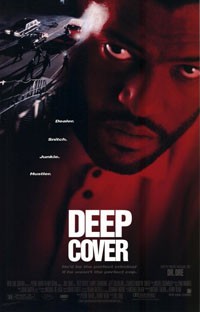 Title: "Deep Cover"
   Stars: 5
   Genre: Drama/Action/Thriller
   Cast: Laurence Fishburne, Jeff Goldblum, Charles Martin Smith
   Director: Bill Duke
   Rating: R
   Running Time: 107 Minutes
   Release Company: New Line Cinema
   Website: http://newline.com/properties/deepcover.html