Forgotten Friday Flick - 'D.C. Cab'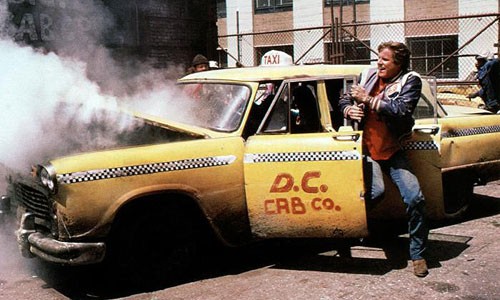 What does it take to hail a decent movie cab these days?  Do you have to have some swinging Amazing Spidey sense or perhaps a little "Magic Mike" hand motion?  I say forget all that new stuff and simply look to the past - welcome to Forgotten Friday Flick!  This week's selection is must-see comedy that may seem cheesy at first glance, but has some of the best movie laughs of all time.  We're talking sleazy drivers, unwelcome passengers and a little 'intestinal yoga' – it's the highly underrated 1983 Joel Schumacher helmed comedy..."D.C. Cab!"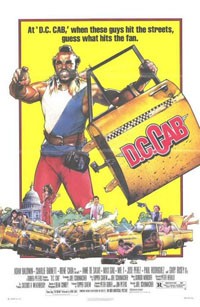 Albert Hockenberry is a small town guy with big dreams.  He's arrived in Washington, D.C. to meet up with his late father's army buddy Harold Oswelt in hopes of becoming a driver for his cab company "D.C. Cab."  So as Albert tries for his hack license he rides along with the various motley crew that make up the group.  There's Xavier, a master of cabs and cuties, Buddy and Buzzy two butch brothers with a sensitive side, Dell, a deviant quick with the quips, Tyrone, a roller's-in-the-hair goofball with attitude and Samson, a tough guy out to help the neighborhood.  All provide a little cool and crass for Albert who secretly has a dream to own his on company someday – but can he wrangle and unite this gang of misfits?
Again, it's easy to dismiss this early Joel Schumacher comedy as 80's fluff, but for my hard earned dollars this ride is worth every penny.  I first saw the film as a kid and remember being enamored with its killer comedy, characters and crazy tone.  Watching again as an adult, the experience is still the same.  Yes, there is simplicity in the story (the ridiculous kidnapping at the end does scream amateur hour!), but frankly that's not what gives "D.C. Cab" its gusto.  Much like in his screenplay for "Car Wash," Schumacher fills his funny with both tasty music and savory players for a comedy concert that rocks the house.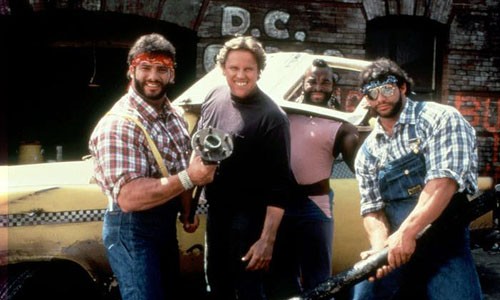 On the actor/comedian side you have a plethora of who's who that went on to become huge, starting with a very young Adam 'Jayne Cobb' Baldwin as the idealistic Albert.  Schumacher then fills out his cast with nothing but the best at their peak including Max Gail as the surly Harold, Mr. T as the sullen Samson, the hilarious Charlie Barnett as the sassy Tyrone "I Love Irene Cara" Bywater, Paul "It's tough to be a man baby" Rodriguez as the woman obsessed Xavier and even those long lost Barbarian Brothers.  (Plus add in some early Marsha Warfield, Bill Maher and hottie Jill Schoelen to make this one complete!)  But the real hidden gem of this workingman's comedy is a surprisingly controlled Gary Busey as the wacky cabbie Dell.  Fast with the disgusting one-liners, ever the sleazeball with the ladies and sporting a scream that can break windows, Busey all but steals the show in a role that could have been a throwaway – it's inspired work.
The music by all 80's standards is a great mix of pop (Irene Cara's The Dream is "Flashdance" worthy!) and Motown sounds (love Mr. T's theme World Champion by Leon Sylvers III!) and is an album I proudly still have.  Back when music mattered, "D.C. Cab" had the hits that provided double duty of being cool and movie scene reminding – key when purchasing an LP for a movie geek.
It was a shame that Universal chose to highlight and focus on the inclusion if icon Mr. T in the advertising for this one.  Not that the chain wearing tough guy isn't a valid member of the "D.C. Cab" team, but he is no better than all the memorable players that make up the dysfunctional folks of this truly ensemble flick.  (Plus kids who loved him had a hard time getting into this R-rated gem complete with knockin' nudity and un-politically correct humor!)  So much more memorable than another 80's comedies, better then the riff raff alongside it on the VHS shelf and chocked full of quotable lines, sizzling songs and a purposefully insane Gary Busey, "D.C. Cab" is an unforgettably ripe and ruckus ride.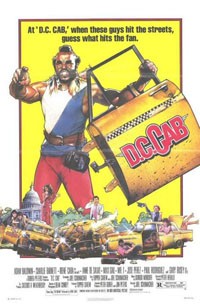 Title: "D.C. Cab"
   Stars: 5
   Genre: Comedy
   Cast: Adam Baldwin, Max Gail, Mr. T
   Director: Joel Schumacher
   Rating: R
   Running Time: 100 Minutes
   Release Company: Universal Home Entertainment
   Website: www.universalpictures.com