Forgotten Friday Flick - 'Cop'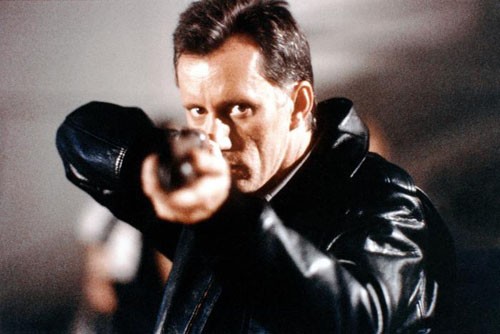 With plenty of good guy/bad guy action (via new Mission Impossible!) and sleuthing (another Sherlock Holmes...already?!) hitting theaters this week, we're jumping on the bandwagon to bring the home happy folks a five-star detective flick that's little known, but should be...welcome to Forgotten Friday Flick!  Nothing says savory story like tale involving a cop who goes to the edge to get his man and today's selection is no different.  Featuring James Woods in the best (and most caustically clever!) role of his career, this one will have you guessing right till the end – it's the 1988 thriller "Cop."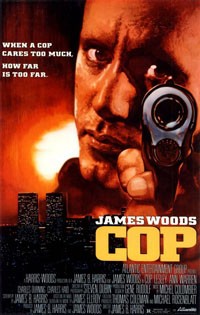 Detective Lloyd Hopkins is a cop with a ton of problems.  He's insubordinate, obnoxious, self-centered and is even having problems at home – thing is he's also one hell of a detective.  His latest case is one steeped in all the juicy stuff like drugs, prostitution and police corruption.  It involves a string of female murders that Hopkins soon comes to believe may have a connection and it leads him to sassy feminist bookstore owner Kathleen McCarthy, who may have more to do with the case then meets the eye.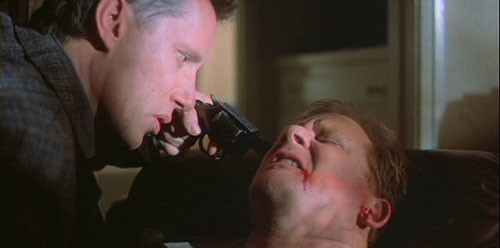 To reveal any specific details of the actual case and findings would be to ruin what is a riveting detective story, but frankly "Cop" is so much more.  And I'd be lying if I didn't point out that most of the praise has to be heaped on the character and acting of lead man James Woods.  As the hard-edged cop with an attitude, Woods commands the screen right from the first frame, which is actually a clever walk and talk with Woods giving case tips to a rookie.  It's these scenes featuring fantastic Woods dialogue delivery (the speech to his wife about how they should raise their little girl is some of the best stuff written and performed EVER!) and quiet moments (Woods mesmerizes even with a long lingering look!) that gives "Cop" the extra zest and flavor that separates it from the thousands of forgettable police yarns before and after it.  Not that the script (based on the novel by James Ellroy) and tone set by helmer James B. Harris (who should have gone on to do a ton more stuff!) doesn't set the stage for success (the writing is top notch!), but a gifted craftsman like Woods could take notes off a cocktail napkin and make it sound golden.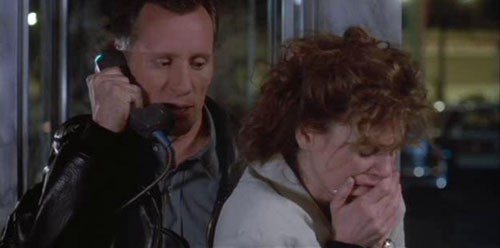 There is of course some very decent and notable supporting cast like the lovely (and underappreciated!) Lesley Ann Warren as the weary bookstore manager, Charles Durning as Woods' savvy partner and especially Raymond J. Barry as Wood's surly boss (not to mention some great story twists and turns!), but this one is Woods' show all the way.  Like a toned athlete at the peak of his physical powers, Woods shows such a gusto, panache and charisma for the role of the amoral Hopkins that he frankly steals the show.  Janet Maslin, writing for The New York Times, had harsh words for my much loved "Cop" at the time of its release saying things like "not believable," "idiotic" and "leaves a lot to be desired", but I say go back and watch it again my dear.  If there were more films as smart, thrilling and utterly cool as "Cop", there would be no need to write this column.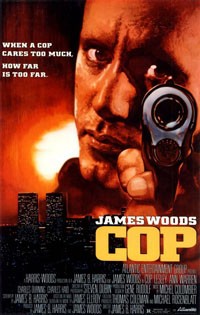 Title: "Cop"
   Stars: 5
   Genre: Drama/Thiller/Mystery
   Cast: James Woods, Lesley Ann Warren, Charles Durning
   Director: James B. Harris
   Rating: NC- 17
   Running Time: 110 Minutes
   Release Company: Atlantic Entertainment Group
   Website: http://en.wikipedia.org/wiki/Cop_(film)