Forgotten Friday Flick - 'Bound'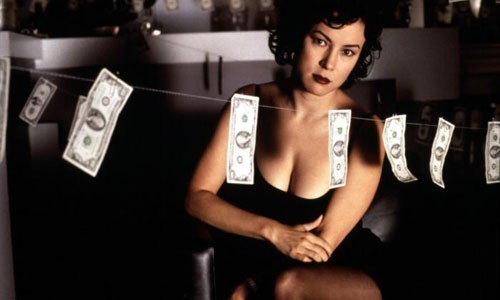 Films fans are sure to flock to the sight of the epic looking "Cloud Atlas" this weekend, but we thought it a good time to check out some early Wachowski fare.  Back when Lana was Larry and style was the special of the day...welcome to Forgotten Friday Flick.  Today's selection was a sexy, tense and ultimately stylistic masterwork that all but announced the arrival of the famed Wachowski Brothers.  It combined a terrific story with some dynamite performances – and looked good doing it.  Lesbians, double crosses and a little Tom Jones, it's the 1996 underrated thriller..."Bound."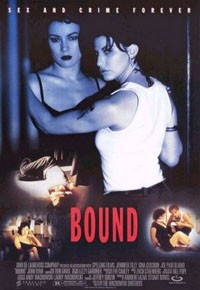 Corky is a lesbian and ex-con fresh out of the joint looking for work and women.  She ends up finding a little of both when she agrees to take on a plumbing and painting job in an apartment that happens to be next door to a fetching mob moll named Violet.  Violet is direct, flirty and tries her best to seduce the quiet and cautious Corky.  The two eventually become lovers and Violet soon begins to reveal facets of her unfulfilling life with gangster Ceaser.  But she has an idea and a plan to get out from under it all – if Corky agrees to help.
There are many wonderful twists and turns in "Bound" and if you can make it past a lot of well shot lesbian love scenes early on (yeah, we all hate those don't we?!), it only gets better.  I think the lesbian angle of "Bound" threw many for a loop, but it's a choice that works more in terms of style then substance and as such is treated like any other passionate on screen tryst that has heat.  The consequent story is utterly engaging mystery, playing the audience like an emotional violin the way greats like Hitchcock used to do.  As sensuous lesbian lovers, Jennifer Till and Gina Gershon represent the two sides of female prowess – strength and beauty.  Both give astoundingly engaging performances, especially Gershon, making the world of "Bound" both look and feel authentic.  (Not to mention some memorable and quirky supporting work from both Joe 'Cypher in The Matrix' Pantoliano and an early Christopher Meloni!)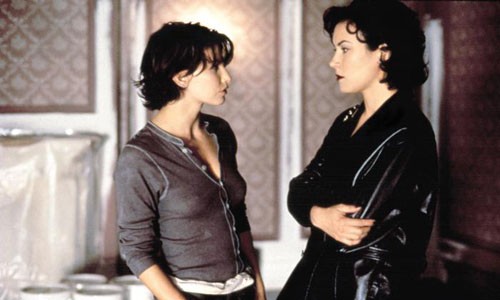 But it's the impressive visual work of the then Wachowski Brothers that makes "Bound" a standout.  Using the detail of De Palma, the cool of the Coens and the slick of Scott (Ridley or Tony – take your pick!), the Wachowski's don't waste a single frame of "Bound" – every minute is lush and steeped in style.  Their visual flair (love the art direction – Lynch mixed with period!), their shots (use of light and angles is unmatched!) and their overall tone (the music is unforgettable!) turned what could have been just another thriller with skin into a flick not to be ignored.
Of course the famed Wachowski's went on to even more visual fame with things like "The Matrix" and "Speed Racer" (and are no longer brothers!), but I still attest that the bypassed "Bound" is by far their best work.  More than a crime thriller, better then a neo-noir suspense outing and never stooping to typical story turns, "Bound" marks a real indie breakthrough for those who have vision and talent.  Anyone who saw this hidden gem came to the same united conclusion – whoever made this was bound to go places.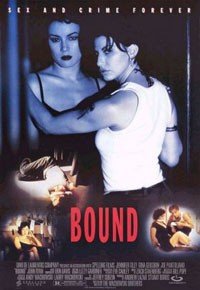 Title: "Bound"
   Stars: 5
   Genre: Drama/Thriller
   Cast: Gina Gershon, Jennifer Tilly, Joe Pantoliano
   Director: The Wachowski Brothers
   Rating: R
   Running Time: 96 Minutes
   Release Company: Gramercy Pictures
   Website: http://en.wikipedia.org/wiki/Bound_(film)