Forgotten Friday Flick - 'After Hours'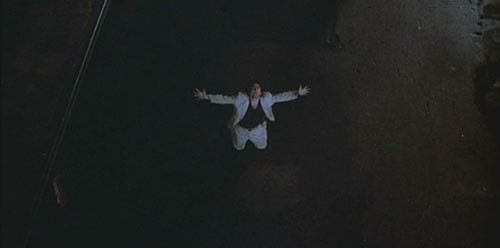 Tired of "Arthur Christmas" Thanksgiving turkey?  Not eager to gobble up more mindless "Muppet Movie" mayhem?  Ready to "Hugo" back home and avoid the money-saving hounds from hell on Black friday?  Well then come with us as we infuse a little quirky comedy into your movie-watching day with another edition of...Forgotten Friday Flick!  Weird scars, bad beehive hairdo's, strange sculptures, Mohawk Night and Kiki Bridges and her Plaster of Paris bagel and cream cheese paperweights – all make up the oddity that is Martin Scorsese's 1985 comedy cult classic..."After Hours."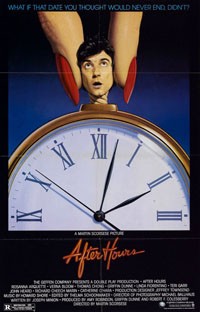 Paul Hackett is a lonely word processor looking for some, nay ANY sort of excitement in his life.  He spends lonely nights at home, flipping through the TV channels, passing the time reading Henry Miller in any attempt to keep his non-existent fantasies alive.  Then one night while out having a cup of coffee at a local shop he finds himself in a conversation with a beautiful girl named Marcy and when he gets home he decides to call her.  She invites him over – and that's Paul's first mistake.
Out expecting a fun night on the town, Paul is thrown like a human punching back through some of the worst (Marcy may or may not have a horrible hideous scar!), most disturbing (Julie, a gabby gal whom Paul meets has both a huge head of hair, love for The Monkees and mousetraps planted firmly around her bed!) and downright upsetting (Paul's mistaken for a burglar and chased through the streets by the local neighborhood watch via Mister Softee Ice Cream truck!) events that one human should never have to endure. (At least not in a single outing!)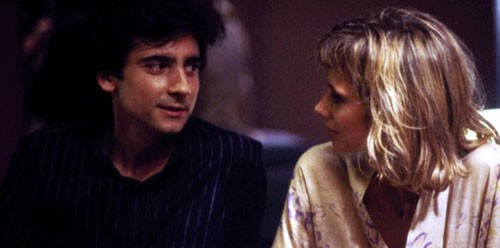 To reveal anymore of the tacky treats and black comedy eats within would be a sin, but rest assured this is Director Martin Scorsese at his funniest.  (Even "The King of Comedy" bows!)  Infusing one delectable disaster after another to poor Paul who simply wants to live life and get the girl (a live one anyway!), Scorsese adds a sense of character and urgency to every moving shot and fast paced frame of "After Hours," all the while not intruding on the already stellar story – it's inspiring work.  Plus mixed with Howard Shore's offbeat score and a selection of amazing songs that fit the vibe of their respective scenes (a classic Scorsese touch!), the film really transports both the viewer and Paul into interesting unknown territory.
Of course his cast – top notch on every level – gives the film its ultimate comedic prowess, from the big to the small.  How many flicks house talents like Terri Garr alongside the comedic duo of Cheech & Chong?  In "After Hours" they all shine; Griffin Dunne, fresh of his memorable work as David Naughton's decomposing best friend in "An American Werewolf in London," as the sad sack turned victim Paul, Rosanna Arquette as his odd lust de jour Marcy, Linda Fiorentino as her free spirited roommate Kiki, and Garr and Catherine O'Hara as creepy ladies Paul meets along the way (plus props to small roles played by John 'nice guy' Heard, Will 'Horst' Patton and Vera 'let me out of this lady' Bloom!) – all make up the ingredients of the five star soufflé that is "After Hours." (Even if the cake itself is a tad lopsided!)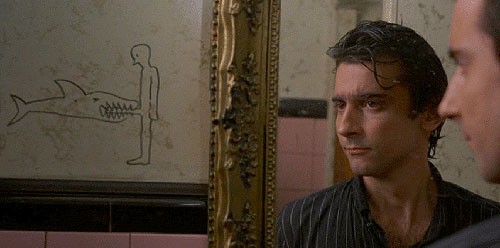 I remember arguing with someone about the validity of "After Hours" being a comedy (click to see argument HERE!) and even Scorsese himself expressed doubt as to whether the film was funny enough.  I'm here to say that out of real-life dramatic situations is where the best laughs come from and it's in this arena that After Hours takes no comedic prisoners.  From the broadest comedy (Paul getting his head shaved to make room for a mohawk!) to the smallest gesture (the look on Paul's face after being told that Marcy's former Wizard of Oz-loving husband liked to scream 'surrender Dorothy' upon orgasm is priceless!), everything about the film is a riot.  Take it from a guy who likes to laugh Martin – it's funny.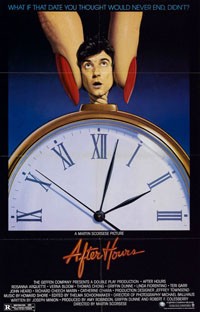 Title: "After Hours"
   Stars: 5
   Genre: Comedy/Drama
   Cast: Griffin Dunne, Rosanna Arquette, Linda Fiorentino
   Director: Martin Scorsese
   Rating: R
   Running Time: 97 Minutes
   Release Company: Warner Bros.
   Website:
   http://www.wbshop.com/After-Hours/10083,default,pd.html