For Some Celebs, Their Best Accessories Are Their Pampered Pooches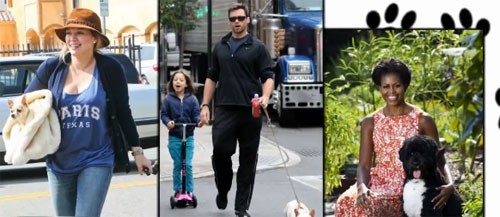 Bo Obama just got his first official White House photo. In honor of the first dog's fourth birthday, check out some of our other favorite furry friends.

Hugh Jackman's French Bulldog is a natural in front of the camera. The actor rarely goes anywhere in New York City without Peaches.

Hilary Duff and her husband Mike Comrie are expecting a bundle of joy, but the actress is often snapped carrying a different bundle - her Chihuahua Lola.

Anne Hathaway takes her Chocolate Lab Esmerelda everywhere - from filming "Batman" in Pittsburgh to walking in Los Angeles.

Check out more in the video & slideshow below!