Foo Fighters' Concert Caused Tremors In New Zealand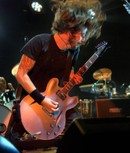 The Foo Fighters made the ground shake at a concert in New Zealand this week as experts picked up seismic tremor readings from the gig more than a mile away.

The band took to the stage at Auckland's Western Springs stadium for the outdoor gig on Tuesday and earthquake monitoring devices around the region picked up geological vibrations from the show.

The readings taken by scientists at the GeoNet project, an organization which monitors earthquake activity in the country, show the rock concert, attended by 50,000 fans, produced tremors comparable to volcanic activity.
 
A statement from GeoNet reads, "The first vibrations were recorded around 7.30pm, part way through the (opening act) Tenacious D set, but the biggest shakes started at 8.20pm when the Foo Fighters took the stage, and then it all went quiet at 11pm when the gig ended. The ground was shaking three times per second in a nice rhythmic motion."

"There are lulls in the signal between the songs and peaks in signal intensity during the songs."