Following 'Pan's Labyrinth,' 'Hellboy II: The Golden Army' Regresses From Best to Worst For Guillermo del Toro

(Hollywoodchicago)
– Hellboy is plugged as the world's brawniest, kitten-loving superhero. While that paradox is supposed to be both funny and action packed, "
Hellboy II: The Golden Army
" from famed writer and director
Guillermo del Toro
falls flat on the funny front and instead winds up on the funny farm.
Amid a superhero-laden 2008 with true blockbusters including "
The Dark Knight
" (opening on July 18, 2008), "
Iron Man
," "
Hancock
," "
The Incredible Hulk
" and "
Punisher: War Zone
"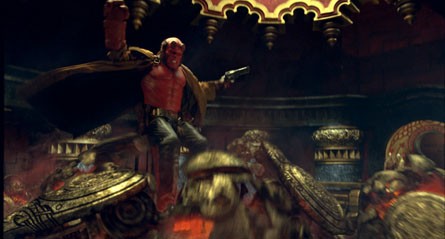 (opening on Dec. 5, 2008), "Hellboy II: The Golden Army" had just as much potential but reveals only semi-blockbuster status.
On the heels of the majestically dark "Pan's Labyrinth," Guillermo del Toro regresses from perhaps his finest film hour to his among his greatest misfires in the action-packed but story-miscued film about a tough-talking hellspawn who wages war against rebellious and ridiculous creatures.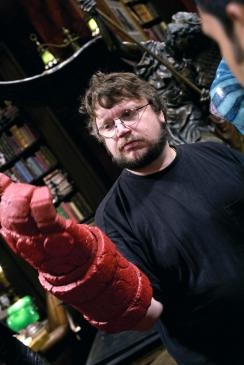 If you recall 2004's "Hellboy" at all, it's not likely because of the $60 million in domestic dollars the film raked in theatrically or its $100 million worldwide total in theaters. Rather, "Hellboy" earned cult-following status from its subsequent DVD release. It's that launch pad that's propelling "Hellboy II: The Golden Army" with steam in 2008.
But while the film will show an improved box-office balance sheet and critically is earning rave reviews, don't be fooled by the hype machine. Guillermo del Toro delivers the Hollywood filet mignon we've come to expect wrapped nicely in all the special-effects bacon we've come to desire but without the heart we've come to demand.
Do we care about any of these characters? Do we care if this one actually falls in love or if that one actually lives or dies or if this one makes amends or if that one comes to terms with destiny? What we do feel isn't for the characters, their missions or the performances they deliver.
All we do feel is gypped that Hollywood took our 10 movie bucks and gave us flat characters, forced plotlines and ultimately a mediocre movie experience.
The initial adolescent Hellboy backstory begins with Montse Ribé – yes, a female – as the young Hellboy. She's credited with doing special effects makeup for Guillermo del Toro's "
Pan's Labyrinth
" and should stay in the special effects and makeup departments instead of behing handed her first acting role.
The child acting and costuming weakly stood out larger than even kid Hellboy's right hand of doom.
Ron Perlman
as Hellboy and "A"-gamer
Selma Blair
return as a duo from Guillermo del Toro's first iteration of "Hellboy" in 2004. This time around, we're treated to the same mediocrity spewed upon us then. What we didn't expect – and what wasn't advertised – is that the most interesting characters in "Hellboy II: The Golden Army" were in fact the supplementary ones.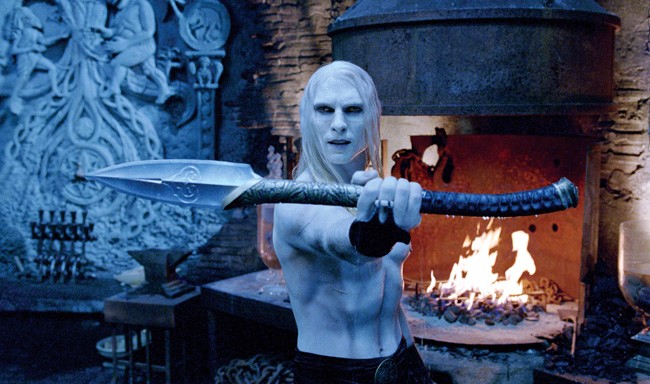 Ruthless leader Prince Nuada (Luke Goss) challenges his enemy in "Hellboy II: The Golden Army".
Photo credit: Double Negative, copyright Universal Studios
Ancillary creations Abe Sapien and Johann Kraus and their respective performances from
Doug Jones
and James Dodd (voiced by
Seth MacFarlane
) had the right idea the rest of the film fatally ignored. Now these organisms – Abe as an aquatic "merman" and Johann as a disembodied ectoplasmic spirit – had charm, intrigue and character appeal.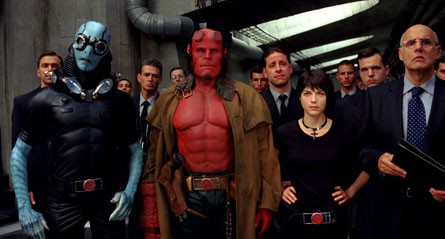 As well, we can appreciate the ruthless creature leader Luke Goss as the spear-fanatical Prince Nuada and the saccharine Anna Walton as the interestingly entwined Princess Nuala. This brother-and-sister duo earns scripting props.
But "Hellboy II: The Golden Army" isn't about them. While the four supplementary characters deliver admirable supporting roles and performances, the film ultimately leaves you feeling "eh" because at its heart is a superhero who'd be just as fine fighting adversaries as he is taking a nap or petting a cat.
Following a magnum opus in "Pan's Labyrinth" and a red-hot backfire in "Hellboy II: The Golden Army," Guillermo del Toro raises a red, hit-or-miss flag on his upcoming blockbuster projects "The Hobbit" in 2011 and "The Hobbit 2" directly after in 2012.
"Hellboy II: The Golden Army," which is written and directed by Guillermo del Toro and stars Ron Perlman, Selma Blair, Seth MacFarlane, Luke Goss, Anna Walton, Doug Jones, John Hurt and Jeffrey Tambor, opened everywhere on July 11, 2008.

By
ADAM FENDELMAN
Editor-in-Chief
HollywoodChicago.com
© 2008 Adam Fendelman,
HollywoodChicago.com