Flobots Kick Off Of Debut Album, 'Fight With Tools'

-Universal Republic Hip Hop Newcomers To Perform Live At Hollywood & Highland Courtyard Outside Of Virgin Megastore On May 20
-
Flobots
Live' Sponsored By Rock The Vote, Myspace Virgin Megastore, Kroq, And Universal Republic Records
-New Single "Handlebars" Across the Board Smash; Hit Single #1 Six Weeks in a Row on Los Angeles Radio Station KROQ
-Universal Republic Records' new Rap/Rock breakthrough band Flobots will be celebrating the May 20th release of their debut album,
Fight With Tools
-Fans who purchase a copy of the much anticipated new album will receive a wristband entitling them to a signed copy of the new CD at the Flobots In-store appearance to take place at the Virgin Megastore after the live event. MySpace will also be giving out promotional items.
-Performing live at Hollywood, California's Hollywood and Highland Courtyard, (
outside of the Virgin Megastore
) Tuesday, May 20th at 6:00 pm.
The Denver group has been taking the music world by storm, with their debut single "Handlebars" becoming one of the fastest moving singles of 2008, soaring to #1 on the Alternative chart, and holding down the top spot on Los Angeles' influential radio station 106.7 FM KROQ for six weeks running. The new video for the single has also become one of the most requested rap/rock clips in memory, leaping to #1 on FUSE's Rock Countdown, and catching a prime spot ala TRL's First Look.
Directed by groundbreaking video production/animation collective Dirty UK, the video's breakthrough animation style perfectly captures the provocative Denver band's fluid mixture of edgy hip hop, combustible funk/rock, and socially aware wordplay that has made them the most talked about newcomers of the year, so far
The new single achieved its Top Ten status in less than 3 weeks of release, the first song to corral such a milestone since Semisonic did it a decade ago with their hit "Closing Time."
The song has also become a digital and MySpace phenomenon, soaring to #10 on the iTunes hip hop chart, with the digital version of the band's CD climbing to #2 on the iTunes hip hop countdown.
Their May 20th outdoor gig is being sponsored by a roundtable of luminous music industry tastemakers, including Rock The Vote, Virgin Megastore, KROQ, MySpace and Universal Republic Records. The group recently performed live at the KROQ Weenie roast to show their gratitude to fans and the radio station for its support of "Handlebars" and spread the word about the May 20th release date for Fight With Tools.
Celebrated for their raucous and engaging performance style, which includes the eclectic interplay of viola and funk-fueled rhythm section, the group will also appear on the Carson Daly show on the day of the album's release, hitting the Tonight Show With Jay Leno on June 5. The Flobots live event is being sponsored by KROQ, Virgin Megastore, MySpace, which is giving away promotional items at the event, and Rock The Vote, who will be registering fans to vote throughout the day.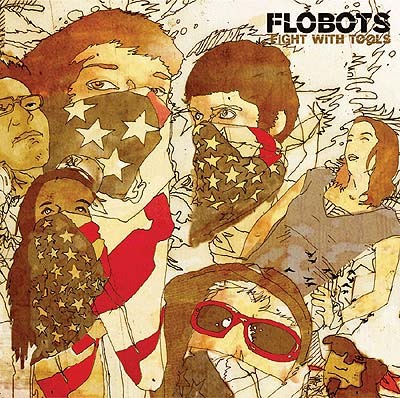 About MySpace: MySpace, a unit of Fox Interactive Media Inc., is the premier lifestyle portal for connecting with friends, discovering popular culture, and making a positive impact on the world. MySpace has created a connected global community by integrating web profiles, blogs, instant messaging, e-mail, music streaming, music videos, photo galleries, classified listings, events, groups, college communities, and member forums. MySpace's international network includes more than 20 localized community sites in the United States, Brazil, Canada, Latin America, Mexico, Austria, Denmark, Finland, France, Germany, Ireland, Italy, Netherlands, Norway, Portugal, Spain, Sweden, Switzerland, Australia, India, Japan, and New Zealand. Fox Interactive Media is a division of News Corp. (NYSE:NWS - New s, NWS .A - News; ASX:NWS - News, NWSLV - News).
About Rock The Vote: About Rock the Vote: Rock the Vote's mission is to engage and build the political power of young people in order to achieve progressive change in our country. Rock the Vote uses music, popular culture and new technologies to engage and incite young people to register and vote in every election. And we give young people the tools to identify, learn about, and take action on the issues that affect their lives, and leverage their power in the political process. Rock the Vote is creative, effective, and controlled by nobody's agenda but our own – we tell it like it is and pride ourselves on being a trusted source for information on politics. We empower the 45 million young people in America who want to step up, claim their voice in the political process, and change the way politics is done. www.RockTheVote.com http://www.RockTheVote.com
About Virgin Megastore: Virgin Entertainment Group is the world's leading multi-channel music and entertainment retailer, providing customers with a range of superior entertainment experiences through a family of integrated Virgin-branded businesses. The "category killer" Virgin Megastores and Virgin Megastore Online at www.virginmega.com are integral parts of a strategy to provide entertainment customers with what they want, how they want it, and when they want it. For more information, or to check out the location of the nearest Virgin retail, go to www.virginmega.com.